By Poly
This is an excerpt from this weekend's premium update from the The Financial Tap, which is dedicated to helping people learn to grow into successful investors by providing cycle research on multiple markets delivered twice weekly. Now offering monthly & quarterly subscriptions with 30 day refund. Promo code ZEN saves 10%.
It is once again clear that the FED will not be raising rates anytime soon, and this news should cheer the markets.  For the first few months of 2015, FED members touted how well the economy was performing.  But then, suddenly and in unison, FED members were out telling the public that the economy has gone through a rough Q1.  The switch in stance is the FED's way of telegraphing to the markets that any rate increases are on hold.
The economic numbers, themselves, have been very negative.  Industrial production for March fell 0.6%, more than the expected 0.3% fall.  The March decline was the largest since May 2009, the third in the last four months, and is part of the longest downturn of the current economic expansion.  In addition, retail sales missed expectations for the fourth consecutive month, while housing starts and building permits also missed estimates by considerable amounts.
From the standpoint of the market, poor economic performance is actually bullish.  If the current bull market were based on economic fundamentals and corporate earnings, prices should be at least 30% below today's level.  But as we've discussed for many months, the market's level is not at all based on economic fundamentals.  Rather, it's driven by speculative FED-provided liquidity and easy money policies.  Anything that perpetuates these policies will allow the speculative market rise to continue.
Don't believe me? Take a look at the European and Asian markets.  Their central banks have become very active, and their markets are exploding.  How else do you explain double digit unemployment rates throughout Europe with markets at all-time highs?  Prices today are all about liquidity, and the central banks are creating bubbles in the markets.  Cheap financing has encouraged corporations to take on more debt and to buy back stock, while the Central Banks have soaked up all high quality sovereign debt, crowding that market and forcing everyone to chase yield and speculative assets in the equity and real-estate markets.
A few people are concerned about a potential Greece exit, and that possibility was widely promoted as the cause of Friday's selloff.  I think by now we can safely say that a Greek exit is one of the most telegraphed events we will ever see.  It has already been priced into the markets, and the exposure to Greek debt has been transferred out of more systemic markets and into public institutions like the Greek central bank, IMF, and Eurozone loan facility.
If there were currently a real risk of contagion, the next in line to fall, Portugal, would have seen a run out of Portuguese sovereign bonds by now.  But instead we see the DAX at record highs and Portuguese 2 year rates near zero!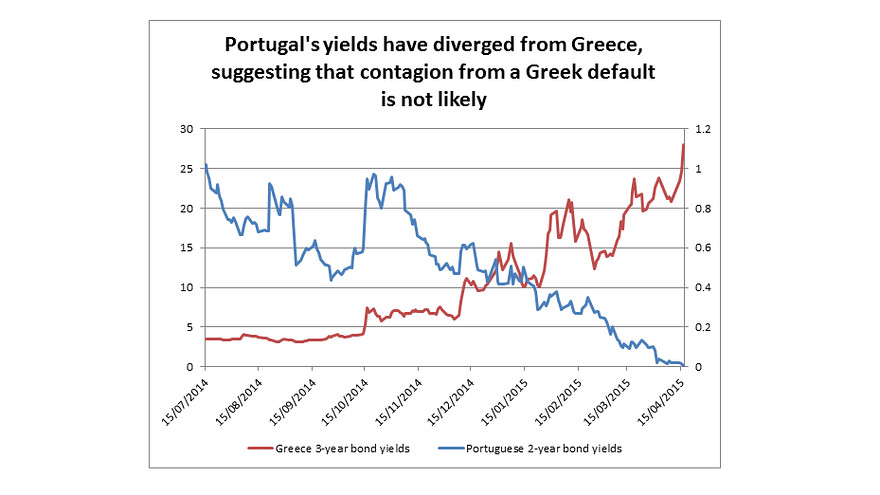 Netting it out, the bull market may not be ready to die just yet.  World central banks are fully committed to propping up stock markets in order to make everyone feel "wealthy".  (more…)