By Poly
This is an excerpt from this week's premium update from the The Financial Tap, which is dedicated to helping people learn to grow into successful investors by providing cycle research on multiple markets delivered twice weekly. Now offering monthly & quarterly subscriptions with 30 day refund. Promo code ZEN saves 10%.
The FED's easy money has encouraged rampant energy speculation and over-investment, resulting in more than $500 billion in new loans and investments in just the past 4 years. And so long as Crude prices stayed comfortably above $90, investments made money and everyone was happy. But once energy prices started falling, the decline quickly became a negative loop-back effect because the very high levels of leverage could not tolerate the move. Whenever asset prices fall in a highly levered market, there is often a sudden lack of liquidity to absorb the speculators' need to unwind leverage, leading to desperation and fire sales. In the case of energy, the sudden disappearance of "investors" highlights just how speculative the underlying market had become.
It's not exactly a Black Swan event, since Crude and other assets occasionally move with incredible ferocity. But to a highly levered and speculative population who chose to ignore the risks as being far too improbable to worry about, it's a situation where debt cannot be offloaded at any reasonable price. At $55 bbl Crude prices, much of the new debt simply does not work, meaning that significant energy company junk bond defaults will occur. Although this is obviously bad for the energy complex, it also has very real implications for broader systemic risk.
The only saving grace may be that it appears that Crude has entered the final, vertical decline of the crash. A bottom in the $50 range is in no way guaranteed, but it is likely that the low will come in the near future. Notice on the below chart that the current move down started from a June top. Since then, we've had no better than a Day 3 Cycle top, showing just how extremely Left Translated recent Cycles have been. The chart also shows how relentless the downward move has been, and the 3 distinct channels it has taken. Within each channel, the declines have taken on a steeper, more vertical aspect, to the point that Crude prices are now near free-fall.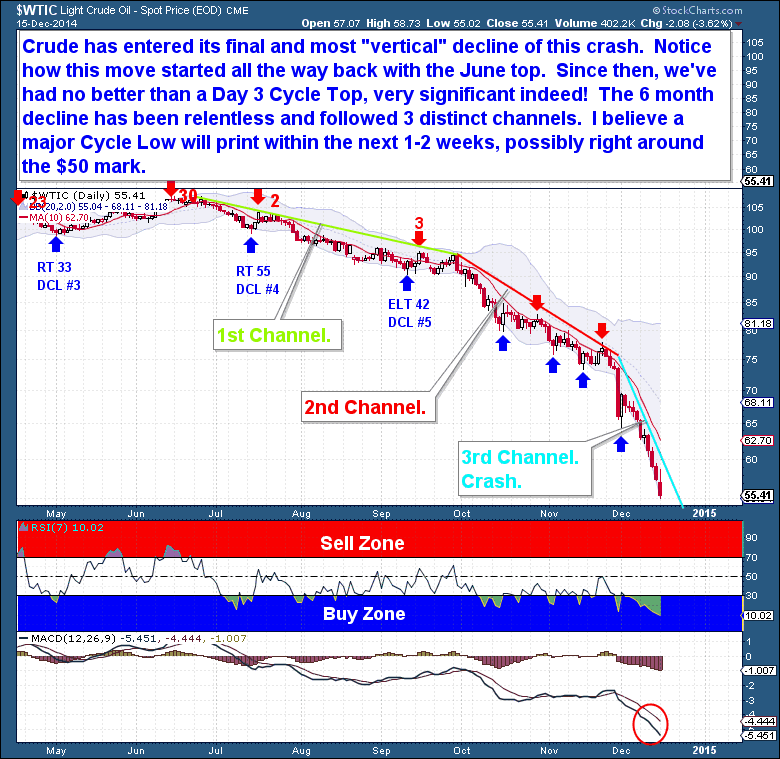 When a market enters into crash mode, there is no way to know where it will bottom. Unlike Crude, the energy producers have, to date, held up relatively well. And recently, they put in a very convincing counter-trend rally at the same time Crude appeared to be finding a bottom. But unless Crude does find a bottom, and quickly, the energy producers will, I believe, be punished with extreme prejudice, as we've yet to see "crash-like" selling in many of the names.
As is clear on the below chart, Crude was already deep into the timing band for a Low when energy producers rallied, fooling everyone into believing that a new Cycle was already underway. (more…)