By Poly
This is an excerpt from this weekend's premium update from the The Financial Tap, which is dedicated to helping people learn to grow into successful investors by providing cycle research on multiple markets delivered twice weekly. Now offering monthly & quarterly subscriptions with 30 day refund. Promo code ZEN saves 10%.
It is a difficult to update my viewpoint when the equity markets had one of the smallest (top 10) price variances in history this week. The action brought little clarity to long term direction, with traders remaining of two minds as to whether the new high portends a breakout with force. And with the VIX at significant lows, traders do not appear to be particularly concerned with downside risk. Although the market eked out a gain this week, its failure to either break strongly higher or drop lower means that equities remain in an extended (12 week) consolidation period.
But as equities have repeatedly made small new highs, the Bollinger Bands have begun to expand. Once the bands begin to widen after a long tightening period, experience has taught that a fast moving market generally follows quickly. Very rarely do markets move back into a tight, coiling range once the Bollinger Bands have begun to expand.
Ordinarily, with equities in their current position – the 5th DC of a 32 week IC – I'd state, almost unequivocally, that they are on the verge of a substantial fall. Over the past 15 years only one Investor Cycle – the most recent – has made it further before topping. And it topped on week 32. The cycle count is really strong evidence to support a drop for at least the duration of the current Daily Cycle.
Netting it out, regardless of the direction the market decides to take, I'm confident the move will begin in earnest next week, and will be extreme in its strength.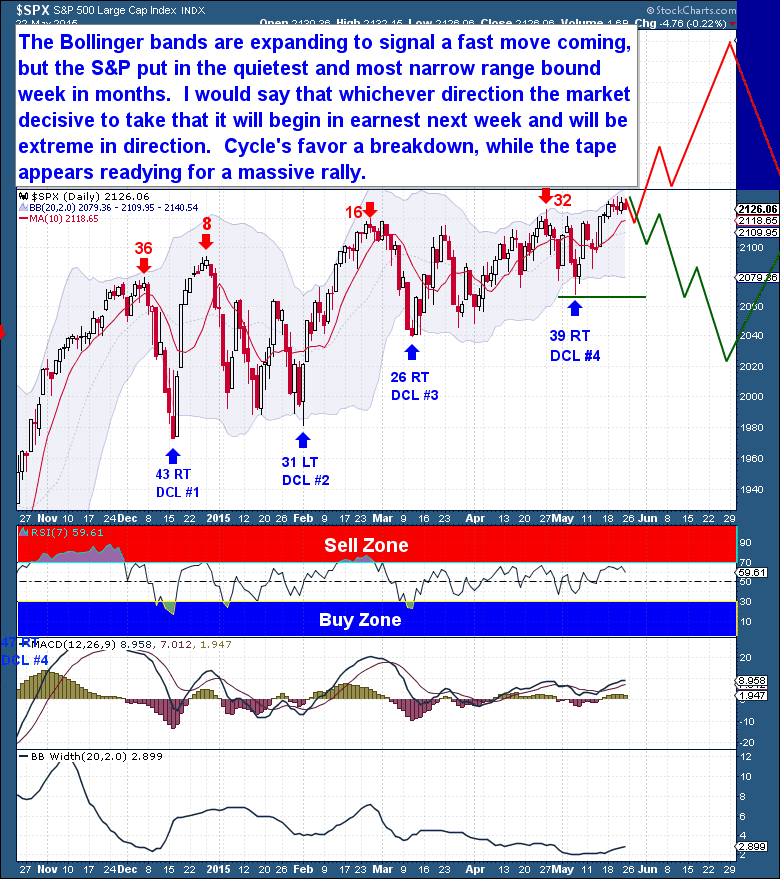 Mainstream analysts are starting to catch onto the fact that economic reports are weaker than expected. And it's more than just unemployment numbers, which have a serious time lag issue and are very noisy. Additional leading economic data points point to at least a slowing of the economic "recovery".
This slowdown is why we've seen the FED narrative shift so quickly. A chart of broad surveys (below) shows that 2014 had a fairly robust expansion, at least on a year-to-year basis, such that the FED began to taper its asset purchases. By the end of the year, the FED was calling this a sustainable recovery, and expectations for raising rates were accelerated substantially. And the prospect of higher rates is why the markets have stalled lately; higher rates and less liquidity would undermine the foundation of the current cyclical bull market.
The view that we're experiencing an economic slowdown doesn't reflect an individual survey or a one month period. It rather is the conclusion from multiple surveys spanning almost 2 quarters, so the data are substantial. The data show that since the 2015 began, a significant slow-down has taken hold. (more…)