By Poly
This is an excerpt from this weekends premium update from the The Financial Tap, which is dedicated to helping people learn to grow into successful investors by providing cycle research on multiple markets delivered twice weekly. Now offering monthly & quarterly subscriptions with 30 day refund. Promo code ZEN saves 10%.
Cycle Counts
| | | | | |
| --- | --- | --- | --- | --- |
| Cycle | Count | Observation | Cycle Position | Cycle Clarity |
| Daily | Day 17 | Range 36-42 Days – 2nd Daily Cycle | Topped for Half Cycle – Seeking HCL |  Green |
| Investor | Week 15 | Range 22-26 Weeks | Aging – Approaching typical topping point |      Green |
Supporting Indicators
| | | |
| --- | --- | --- |
| Sentiment Level | 72% | Excessive Optimism |
| Commitment of Traders (COT) | | |
| Primary Trend (Weekly Chart) | Flat- (Possible Change to Down) | Neutral to Bearish |
It can feel like an eternity waiting for a specific move to play out.  For the equity markets, the first turn off the highs is the first sign of a potential topping motion in this Daily and Investor Cycle.  It's a game of patience in the end, especially when you're waiting for a particular move to unfold.
Ultimately, I do not know if the markets have topped.  I honestly have no idea if the bear market in equities will take control or if we are about to see an easy money inspired bull market rally.   The fact is, nobody knows, do not let anybody convince you otherwise.  The markets have been a difficult read these past 18 months and there is no confirmed trend.  I am not here to make wild predictions to excite members, my role is only to discuss and highlight what are plausible possibilities along with a plan on how I aim to capitalize on them.
On the Daily Cycle chart, the S&P peaked on Day 9 and is now clearly seeking the Half Cycle Low point of what is normally a 40-day Cycle event.   If the Investor Cycle topped and the bear market is to return, then that Day 9 high should remain the high and the rally out of this looming HCL should fail to make new highs.  Under the bear market scenario, we should see a failed rally become the right shoulder of a short-term head and shoulders pattern, giving way to a drop of around 100 points into the next DCL.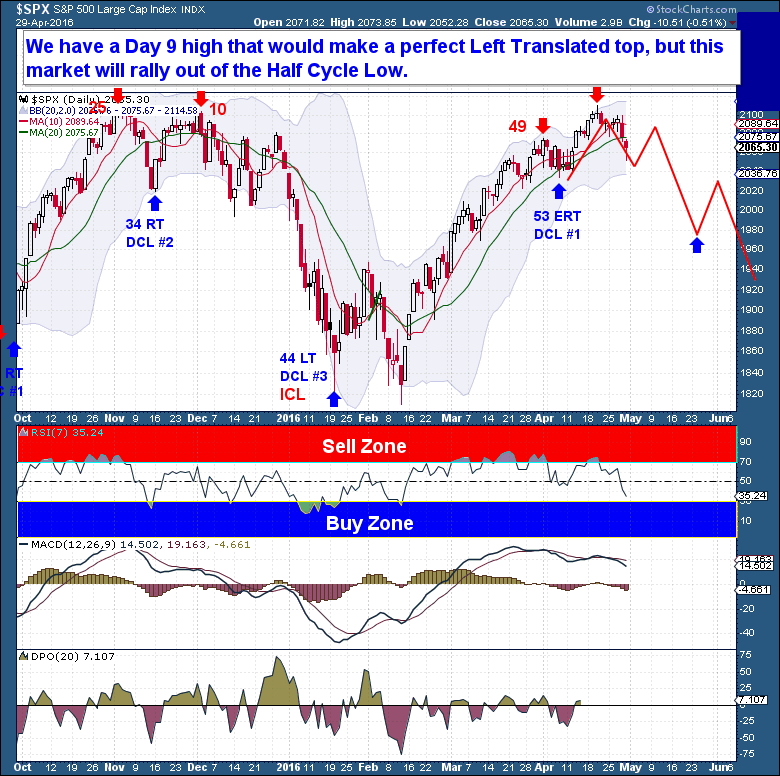 One of my preferred secondary indicators is sentimentrader.com smart money index.  It possibly confirms my bear market scenario as the market appears to be at a topping point.  Historically, it is a leading indicator, with a bottom in the smart money index preceding a market top by a few weeks.  Although not a long-term indicator, it is currently showing us that an Investor Cycle top is likely at this point.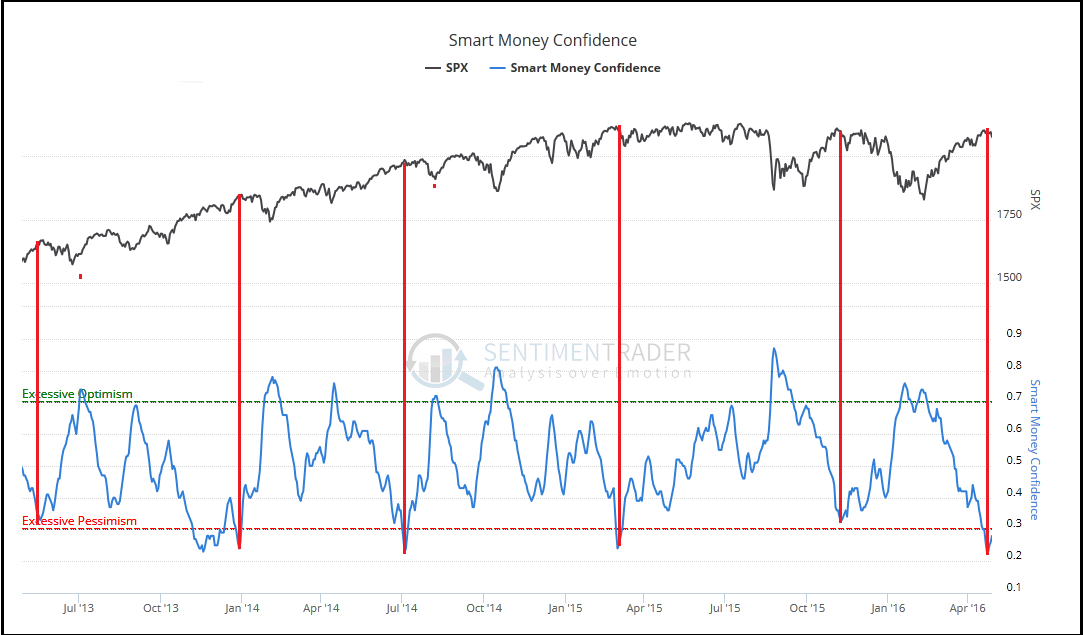 Regarding the bull or bear market thesis, there is no sense in speculating further.  The market remains at those crossroads detailed over many past reports and we will need to wait just a few more weeks before the taken path is revealed.
If you are a bear on this market, then it is easy to become carried away with this mini decline as a sign of an Investor Cycle top.  However, the reality is that on the Daily Cycle timeframe, it was an overdue retracement.  How the S&P rallies after this Half Cycle and for the remainder of May will determine this market's character.  Until then, a little more patience is required.
Leave a Reply
You must be logged in to post a comment.