Talk about a surprise negative GDP print this morning, not sure anybody quite believed it.  Certainly the response on my twitter feed was one of shock.  Of course it didn't take the usual bulls long to come back suggesting that the number was actually bullish due to certain components rising.  FED officials said that "economic activity had paused in recent months, largely because of weather and temporary factors".  They also said that they "expected growth would continue at a moderate pace and that the job market would improve."
That's interesting; when I looked at the GDP numbers it was clear that government spending led the way for a negative GDP print.  The government I know has never had trouble spending. Is the FED really saying that a storm in the Northeast stopped the government from spending?  Now that's comical.  Clearly the government is now contracting (austerity) and this will continue throughout 2013 and it will remain a drag on GDP.  You only need to look at the impact Austerity has had within the European economies to see how dangerous this is for the markets.  Is this suddenly shaping up to be another 1937 like event where the belt was tightened and we nosedived back into deep recession?  We know the FED will do its part to avoid it, their balance sheet quietly climbed past $3T this past week.
But more of these themes for the main weekend report.  For now the Daily Cycle just continues higher.  Sure the S&P had its worst performing session for the year, down just 0.39%.  The fact that the S&P could contain its losses to just 0.39% on a surprise negative GDP print, when it was so overbought to begin with, is extremely bullish.  When I say bullish, I mean this in the context that the market is in denial, it's irrational, and that makes it bullish.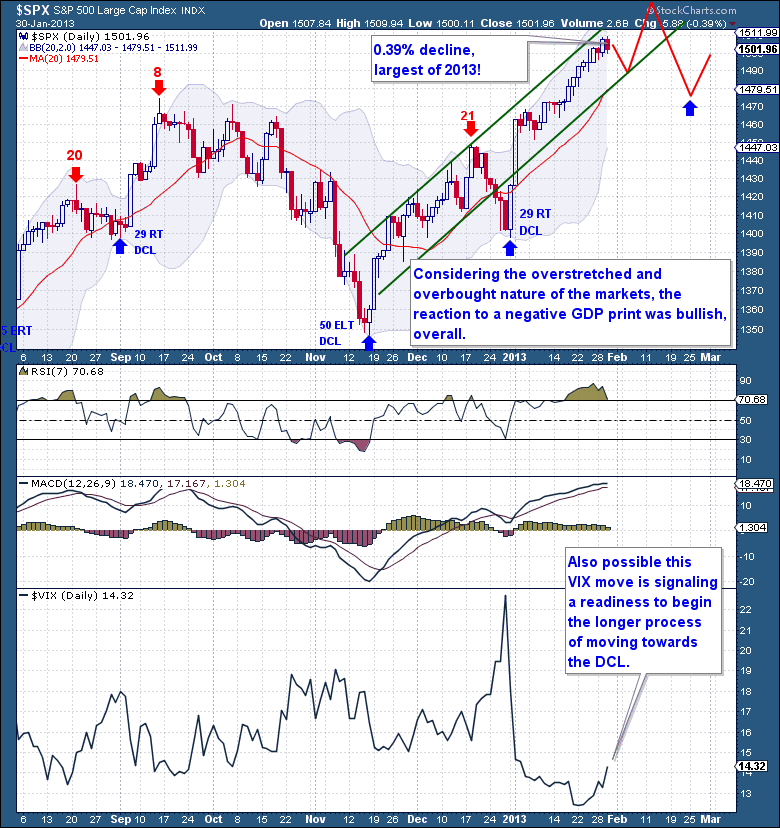 So the trend continues higher and where the Daily Cycle tops out is anybody's guess.  Obviously if today marked that Cycle top, then nobody is going to be surprised.  The Cycle is now advanced enough that a top here could also mark the Daily Cycle Top.  I'm not necessarily expecting a move to Half Cycle Low anymore; the next move has the potential to actually be a more severe Daily Cycle Low.  Keep an eye on the VIX now, it could well be leading the way here, equities may be just a few steps behind.
This as is an excerpt from this week's premium update published on Wednesday (1.30)  focusing on equities from the The Financial Tap, which is dedicated to helping people learn to grow into successful investors by providing cycle research on multiple markets delivered twice weekly, as well as real time trade alerts to profit from market inefficiencies.
They offer a FREE 15-day trial where you'll receive complete access to the entire site. Coupon code (ZEN) saves you 15%.
Related Posts:
Pay Close Attention To Silver Next Week
Dollar Remains Resilient While Facing H/S Pattern
Equities "Aura" is Powerful And Dangerous
Leave a Reply
You must be logged in to post a comment.