By Poly
This is an excerpt from this week's  premium update  from the The Financial Tap, which is dedicated to helping people learn to grow into successful investors by providing cycle research on multiple markets delivered twice weekly. Now offering monthly & quarterly subscriptions with 30 day refund. Promo code ZEN saves 10%. 
The volume and ferocity behind this "mini crash" is certainly not a positive development for oil.  I don't believe anyone can explain what is going on here, but one look at the chart below suggests that a coordinated effort to bring down crude is well under way.  The one bearish aspect leading into this Investor Cycle was the bearish COT report as speculators had been stacked heavy to the long side.  I suspect they're now desperately covering their positions as its gathered momentum and this has added the fuel to this decline.
The current Day 20 top should have been the Half Cycle Top, so a good decline from that point was expected and communicated here.  But this was more than that, this has become a "mini crash" which has far exceeded any expectations. There is now an extreme amount of doubt surrounding crude's intentions for the remainder of this Investor Cycle.
For the short term, we're definitely due for at least a sharp oversold bounce over the next few days.  Day traders should be able to pick up a few points here over the next few sessions.  But from there, this could now be a massive Left Translated Investor Cycle underway.  Meaning, once the counter-trend bounce ends, we could see a resumption of this decline on the way down to a DC and IC failure.  The implications would be huge, as they would point to the possibility that crude is going to lose another $10-15 over the course of this Investor Cycle.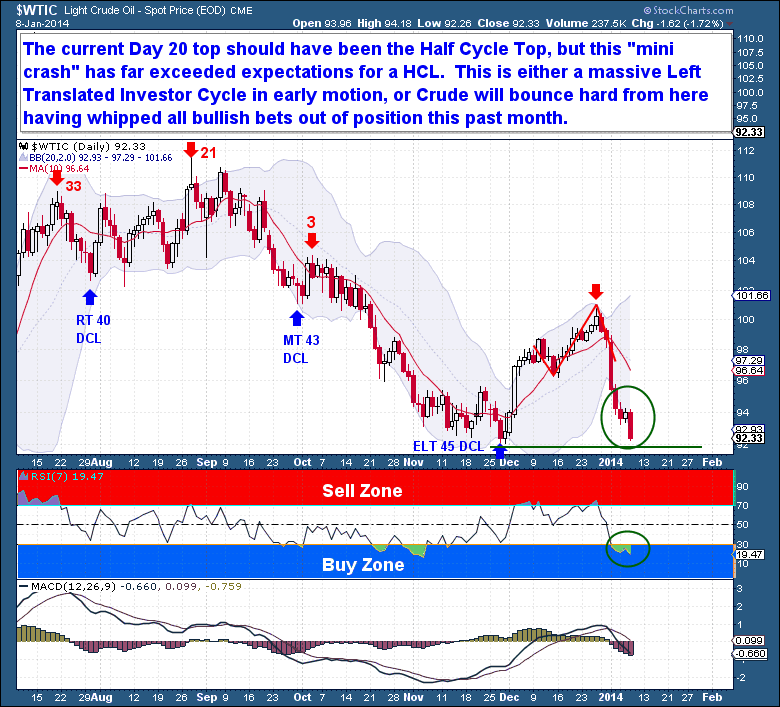 Before I get too carried away with possibilities; the primary trend of higher lows is still intact.  The Cycle has not failed, despite what has been a massive sell-off.  Until we see confirmation of a Cycle failure (See green line above), then we could well end up having experienced one massive whipsaw of positions before this Investor Cycle continues higher.  Granted, it's not common to see a 1st DC completely retrace its gains like this.  But then, it wouldn't be the first, and certainly not the last.
Related Posts:
US Dollar Struggles To Catch A Bid
Current Euro Cycle Unlikely To Move Higher
Leave a Reply
You must be logged in to post a comment.