By Poly
For the time being, I've resigned myself from trying to predict the short term gold Daily Cycle moves.  The asset is trading within a narrow range and until it breaks free and establishes a new trend, it's just a guess to where it moves day to day.  There just isn't any clarity or structure to the short term Cycles as this point.  I believe this is because we're at a major juncture and conflicting influences are pulling the asset in opposing directions.
When I study the weekly chart, I just don't see any of the follow through or strength I had expected by this point.  I've been working on the assumption that Jan 2nd marked the ICL and that this was the 1st Daily Cycle of a new C-wave.  All of the past initial moves of new C-Wave have been very powerful and unrelenting in their pursuit of past all-time highs.
But the strength is just not there this time; the action does not support this theory.  From the Jan 2nd Low we experienced a $70 surge that served to take out the Weekly Swing Low mark ($1,696).  But that was only on an intraday (never closed above) basis.  From that top, it's been directionless and generally weak action with few spells of buying.
We never did break the Weekly (Investor Cycle) trend-line when drawn from the October $1,800 peak.  The technical indicators and sentiment all came off deep enough lows to support an ICL, but they have since flattened out and turned lower, never reaching levels that corresponded to a new Investor Cycle.  In short, it was my expectation of a new Investor Cycle that rushed this conclusion, the evidence was never conclusive.
What I'm indicating here is that new evidence has been presented that suggests the long running consolidation from October is still in progress.  I believe this remains part of that Investor Cycle, now on Week 25, because it does not have any of the characteristics we could attribute to a Week 5 Cycle, especially one that should be in a powerful new C-Wave move.  After 18 long months of consolidation from the last blow-off, we must expect the eventual 1st Daily Cycle of a new C-Wave to be one that will be powerful, adding 10% in a matter of 15 trading days.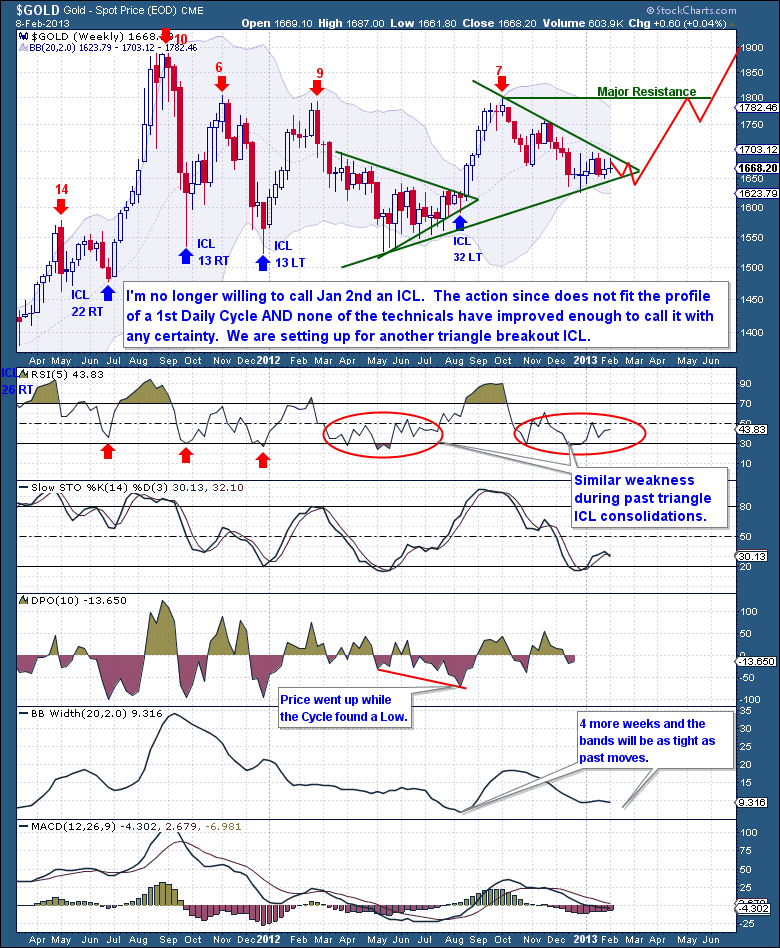 For the Cycle enthusiasts, you're likely going to ask why this couldn't be part of a new weak Investor Cycle, one that is going to fail.  Obviously that could never be ruled out, but that scenario too does not fit well.  It's because to expect a weak and failing Investor Cycle here is to suggest that a D-Wave low is still ahead, and that means moving below $1,523.  In addition, a new Investor Cycle, even one that tops in just 3 weeks, would have actually made much bigger gains before topping.  The point is that a 1st Daily Cycle is powerful, even when it is part of an Investor Cycle (Left Translated) that is about to fail.  So this Investor Cycle would have been near $1,800 already, it would not be sitting just $40 above its prior ICL.
So here are the important aspects to what I'm seeing. Because we're on week 25, I'm not expecting to see a traditional ICL in the coming weeks, the kind that ends in a waterfall decline. I believe the Jan 2nd Low ($1,626) will most likely end up remaining as the price low point for this Cycle.  So this will give the illusion to many that the Jan 2nd was still the ICL.  I see the next 4-6 weeks into the next ICL is going to be marked by a continuation of this narrow trading range.  That will serve to further constrict the Bollinger Bands, to the point where Gold will slingshot out of a triangle consolidation with extreme force and purpose.
This is an excerpt from this weekend's premium update published on Saturday (2.09)  focusing on the Gold market from the The Financial Tap, which is dedicated to helping people learn to grow into successful investors by providing cycle research on multiple markets delivered twice weekly, as well as real time trade alerts to profit from market inefficiencies.
They offer a FREE 15-day trial where you'll receive complete access to the entire site. Coupon code (ZEN) saves you 15%.
Related Posts:
Austerity Could Trigger Next Recession
Leave a Reply
You must be logged in to post a comment.