Here's what All About Trends has to say about Apple's chart on this weekends premium newsletter: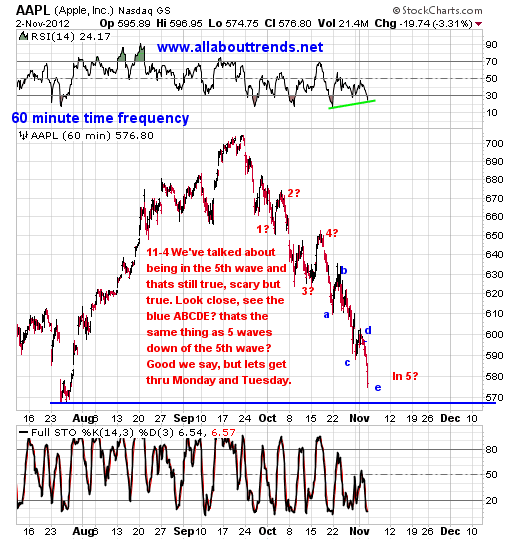 Not only did we get a "Back To The Scene Of The Crime" we got another leg down. Notice the gap fill at 580? We'll see. Keep in mind this is a name that at some point real soon is going to stage a rip your face-off to the upside move so short sellers beware.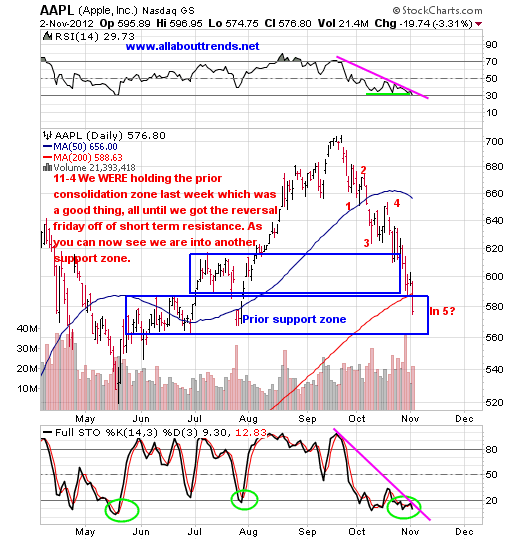 So here we go into elections with a big move coming. Should we wake up Wednesday to a big gap up because of a " Unknown becomes known" move higher we have exposure and are participating. Should we wake up to a big down market (goes for Monday and Tuesday too)? We can look for something to nibble on the long side.
Either way once elections are over we can all say: "Now that we got that out of the way" in addition to that we have more and more of the East Coast coming back on line every day which is a good thing too as it adds more liquidity in the markets. That lack of liquidity is also a big reason last week was the way it was in both directions by the way.
Overall folks trade because you choose to trade vs. being impulsive and by the seat of your pants. We'll get through this time band just fine, we always do. After all this is the time of year when markets typically bottom out just in time for a run into year end. Given that the last thing one wants to do is cave in just before the markets take off we've all made it this far. So let's see if we can get a post election rally no matter who wins.
Leave a Reply
You must be logged in to post a comment.