By Poly

This is an excerpt from this week's  premium update  from the The Financial Tap, which is dedicated to helping people learn to grow into successful investors by providing cycle research on multiple markets delivered twice weekly. Now offering monthly & quarterly subscriptions with 30 day refund. Promo code ZEN saves 10%. 
We've waited a long time for the Equity Cycle to peak, but finally after a 36 day rally, I'm certain a top has occurred.  While the S&P held its runaway move above the 10dma, it was purely a guessing game as to when it would turn.  But now, with a Swing High and a close below the 10dma coming so late (Day 38), there is no doubt this 3rd Daily Cycle is in the declining stage of the Cycle.
The late afternoon rally today does speak to the underlying strength of the Yearly Cycle.  After all, a bull market is certainly hard to keep contained, so going against it is never an easy proposition.  Today was also the 4th straight daily decline and the noticeable drop on the daily chart sent the "buy the dip" brigade to the markets rescue.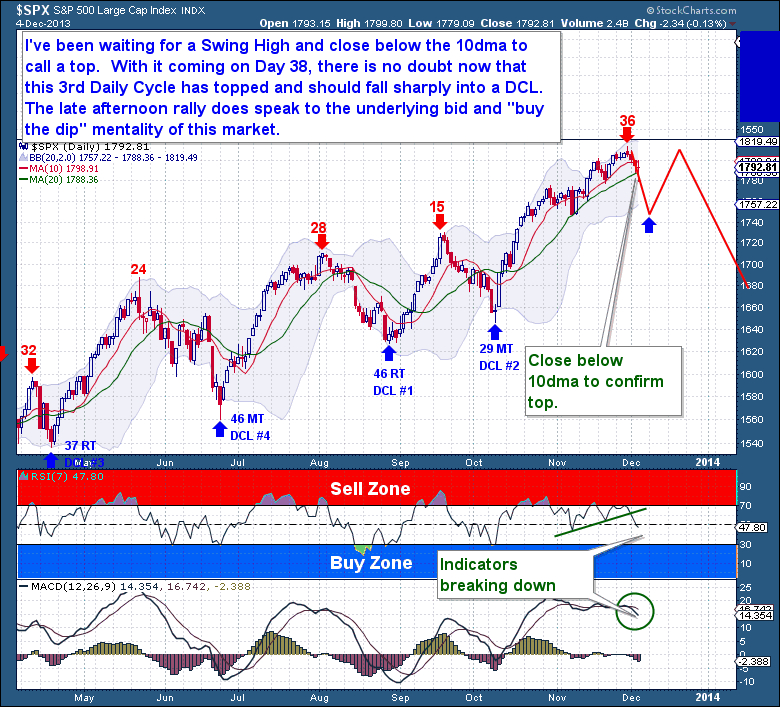 But that should not be enough to help equities here.  A 36 day Daily Cycle should require more consolidation time before it could move higher.  This Cycle added 150 points while the decline from the tips has been just 40 points.  Of course ever mindful that this is a runaway move, I still maintain that a drop back to 1,750-55 should be forthcoming.
On the Daily Chart, it should end up looking like a fairly sharp drop from the Cycle top.  But I believe the snap back in the coming 4th Daily Cycle will be equally impressive.  I doubt the S&P, because of its runaway stature, will be slow to retest the 1,800 level.
Related Posts:
Euro's New High Negates H&S Pattern
Equities Appear To Have Put In A ST-Bottom
Blow Off Top Could Be In The Cards
Leave a Reply
You must be logged in to post a comment.