By Poly
This is an excerpt from this week's  premium update  from the The Financial Tap, which is dedicated to helping people learn to grow into successful investors by providing cycle research on multiple markets delivered twice weekly. Now offering monthly & quarterly subscriptions with 30 day refund. Promo code ZEN saves 10%. 
As expected, the Dollar topped and the current Daily Cycle became Left Translated. But it would have been difficult to expect the bottom to drop out as it did on Thursday.  Of course, that sort of surprise is possible whenever a Cycle is ready to turn.  I stated midweek that, because this Investor Cycle wanted to form as Left Translated, the Week 2 top was unlikely to be taken out.  And that's exactly what occurred – the moment the Dollar threatened the week 2 top, it was sold aggressively.
We witnessed a massive emerging market currency sell-off this week, but the Dollar index barely moved.  There was a massive flight to safety in the currency markets with the Yen, Euro, and the Dollar all beneficiaries of the action.  The flight to safety in currencies is an early warning of the turmoil that is approaching the world's equity markets.
For Gold investors, the current Dollar drop is welcome.  The Yen's gaining strength places a strain on the Yen carry trade and indicates that the long rallies in equities worldwide could be in jeopardy.  In addition, the Dollar appears to have printed a Daily Cycle failure on just day 6, meaning that it could have another 10 sessions of lower prices ahead.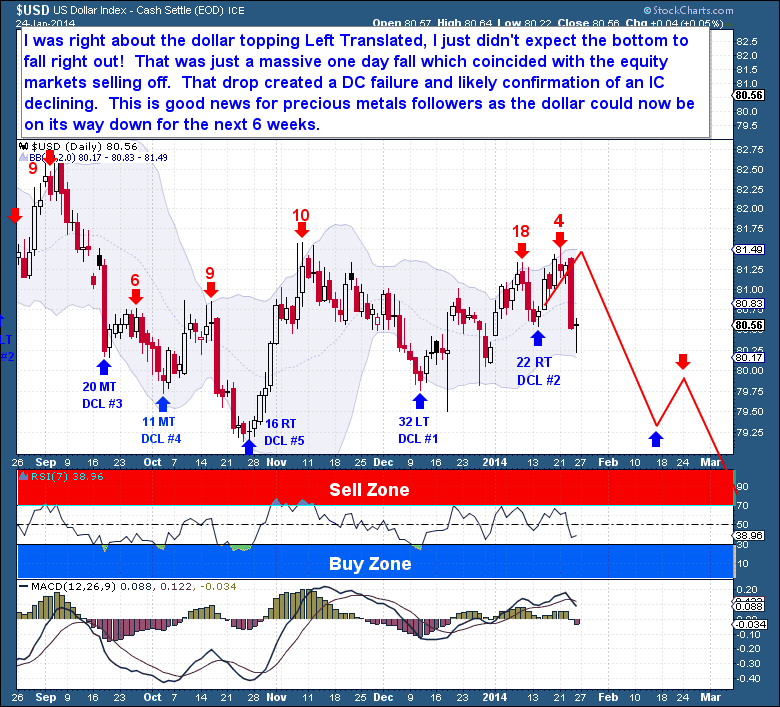 Dollar weakness on the Daily chart makes perfect sense for those who have been following the Investor Cycle.  The current IC is very clear, with the October low marking the last ICL.  That puts us on Week 13 and a 3rd Daily Cycle that has already failed.  That's an ominous position, traditionally the point where a Cycle can turn and accelerate toward the ICL.  I have pointed out the developing weekly bear flag, which appears ready to break-down into what should be a sizable decline.
The Dollar Investor Cycles have been very consistent in length; the most recent 4 lasted 20, 19, 20, and 19 weeks.  From here, another 1.5 Daily Cycles lower would place the next ICL at 20 weeks.  If this happens, we would have 7 weeks lower, enough time for equities to fall into a Yearly Cycle Low while the precious metals rally to the next Investor Cycle top.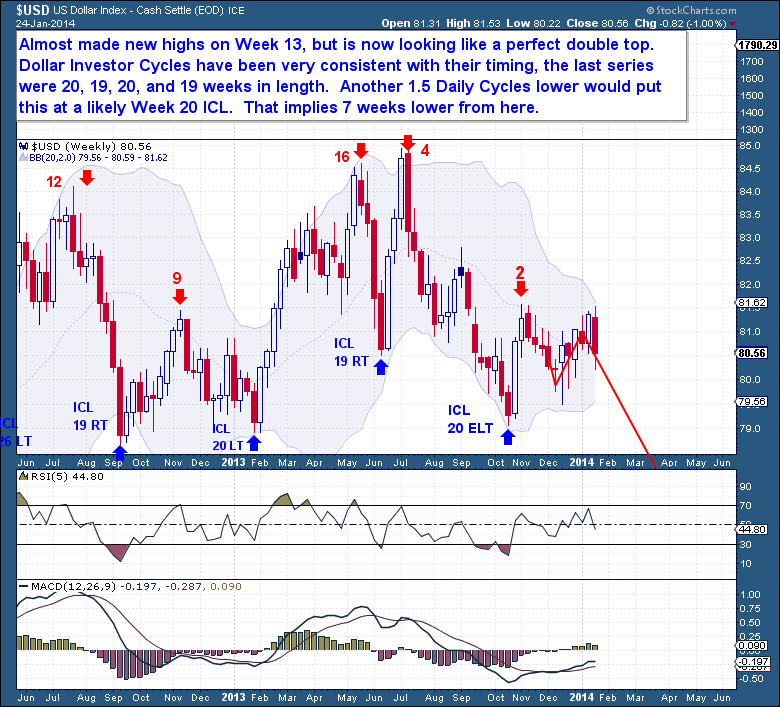 Related Posts:
Volatility Is Coming, But Which Direction?
Speculative Buying Underlies Strength In Silver
Bearish COT Report Fuels Oil's Mini-Crash
Leave a Reply
You must be logged in to post a comment.