By Poly
The Dollar continues to find a solid bid simply because it's just far more attractive than all the others.  The move has been relentless and we know that currencies are known for these long and pronounced rallies (or declines).  This one is obviously no exception, so it really is difficult to predict when exactly the dollar will top.
From a Daily Cycle standpoint, the dollar has overheated.  It's moved so relentlessly for so long that the divide between the 1st and the 2nd Daily Cycle has become somewhat blurred.  On the Investor Cycle chart, it's been 8 solid weeks of advance and we've now entered the early timing bands for a possible Investor Cycle Top.  Now that we've comfortably made new IC highs (compared to last Cycle), the Dollar is aiming for that big 84.10 three Year Cycle high that was set last July.  Because dollar sentiment is running very high and the Investor Cycle is approaching a top, this brings into play a possible massive 3 Year Cycle double top.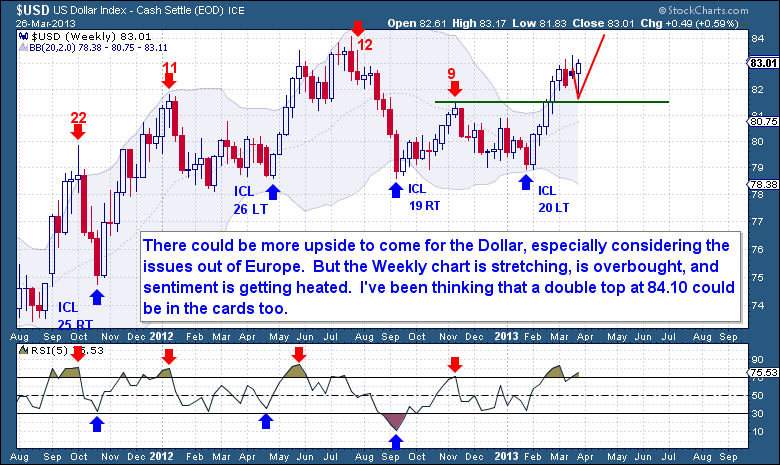 This as is an excerpt from Midweek's premium update  from the The Financial Tap, which is dedicated to helping people learn to grow into successful investors by providing cycle research on multiple markets delivered twice weekly, as well as real time trade alerts to profit from market inefficiencies.
They offer a 

FREE 15-day trial

 where you'll receive complete access to the entire site. Coupon code (ZEN) saves you 15%.
Leave a Reply
You must be logged in to post a comment.