By Poly
As long as U.S economic data continues to outperform relative to most developed nations, then the Dollar will remain supported.  Central banks around the world are in unison with regards to their accommodating stances.  Therefore the argument of central bank liquidity as a catalyst for currency depreciation is to be discounted.  As the dollar is priced versus other currencies only, it's the relative performance of the US economy to these nations that is a better barometer of strength.
There is nothing more to add to the dollar outlook.  It quite simply is exhibiting excellent strength and support, when most had expected weakness.  The Dollar Cycle is overbought on a weekly chart and it again remains in danger of overheating and topping if this pace were to continue.  But on the daily chart, the upwards surge appears a little more controlled.  A process of three steps forward and one step back has kept the Daily Cycle from reaching the very extremes that often pushes a Cycle "over the edge".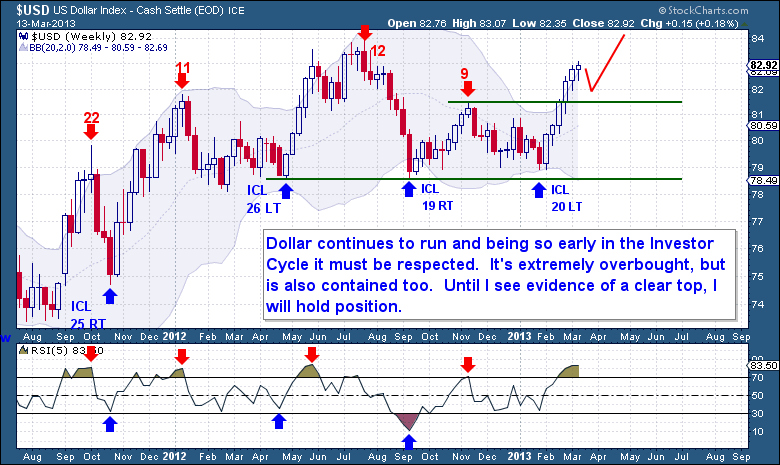 The expectation now is that the Dollar is to find a DC top and turn lower for at least a week.  That would give the Investor Cycle a chance to consolidate these massive gains in preparation for another run higher.  But I've found with currencies that whenever they get into these sustained and relentless rallies, they can stretch on seemingly forever.  I've seen 8 and 10 week rallies that never pulled back, so although we expect a pullback, always respect the primary trend.
This as is an excerpt from Midweek's premium update published on Wednesday (3.13)  focusing on the US Dollars  from the The Financial Tap, which is dedicated to helping people learn to grow into successful investors by providing cycle research on multiple markets delivered twice weekly, as well as real time trade alerts to profit from market inefficiencies.
They offer a 

FREE 15-day trial

 where you'll receive complete access to the entire site. Coupon code (ZEN) saves you 15%.
Related Post:
The Fed Has Averted A Recession For Now
Italian Election Could Be Game Changer
Leave a Reply
You must be logged in to post a comment.