By Poly
This is an excerpt from this weekend's premium update from the The Financial Tap, which is dedicated to helping people learn to grow into successful investors by providing cycle research on multiple markets delivered twice weekly. Now offering monthly & quarterly subscriptions with 30 day refund. Promo code ZEN saves 10%.
Cycle Counts
| | | | | | |
| --- | --- | --- | --- | --- | --- |
| Cycle | Count | Observation | Probable Outlook | Cycle Clarity | Trend |
| Daily | Day 11 | Range 36-42 Days – 1st or 6th Daily Cycle (depends on IC) | Bullish | Green | Up |
| Investor | Week 2 or 40 | Range 20-24 Weeks |   | AMBER | Up |
| 4Yr | Month 73 | Range 50-56 Months- 8th Investor Cycle. | Bearish | Green | Up |
There is not much of an outlook change to report here. I now see the first signs of profit taking occurring in this Daily Cycle, which is obviously understandable, considering the impressive, 90 point move that occurred over just 10 days. The coming pullback over the next few session, might also be aggressive, as a fast decline would be a perfect shake-out before the Cycle heads back up to make new all-time highs.
It's also perfect timing for the bears to call "double top" once more, as the S&P came within just a few points of yet another all-time high. Because I'm seeing this as a brand new Investor Cycle, I find it extremely unlikely that the S&P would top on Day 10 of what would be at least a 22 week Cycle. If that new IC call is correct, then the S&P has at a minimum 4 to 6 weeks before a top should come into question. It's not an easy read on the S&P, I grant you that.  But again as stated this past weekend, the longer term Cycles are in an uptrend, the speculators are pushing hard, and all of the momentum is behind this market. Don't bet against this bull market until it gives you a good reason to.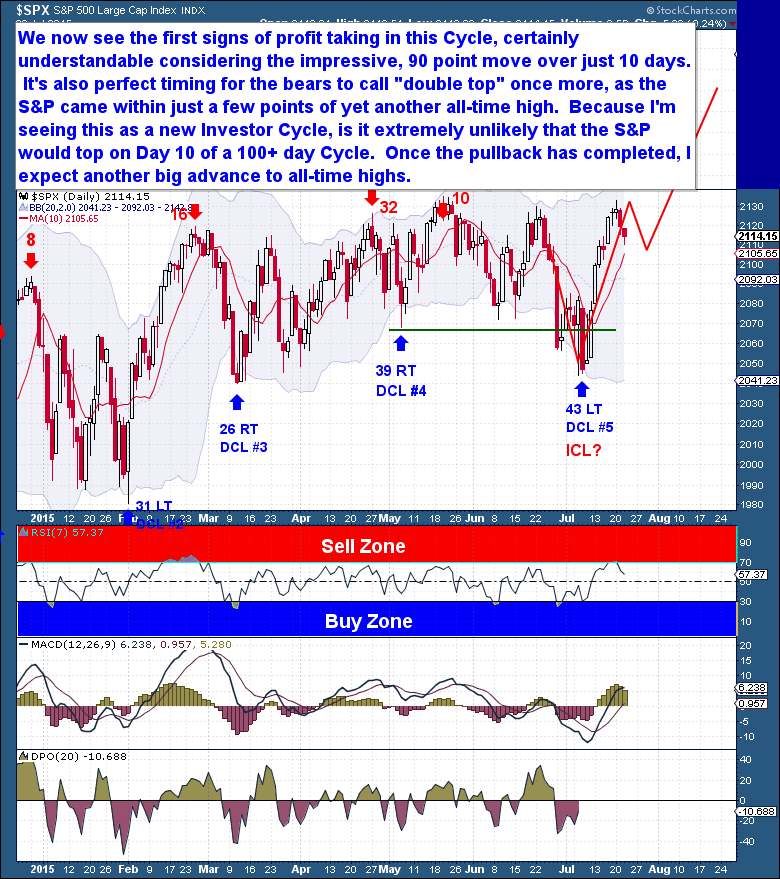 Leave a Reply
You must be logged in to post a comment.