By Poly
This is an excerpt from this weekends's  premium update  from the The Financial Tap, which is dedicated to helping people learn to grow into successful investors by providing cycle research on multiple markets delivered twice weekly. Now offering monthly & quarterly subscriptions with 30 day refund. Promo code ZEN saves 10%. 
The stock market has turned skittish, with everyone suddenly worried.  U.S stocks slid this week, as did world markets without exception, capping the biggest monthly selloff in more than a year.  The DOW was especially hard hit, with the largest monthly drop since May of 2012.  Coincidentally, that drop was attributed to problems in Spain, not dissimilar to current concerns of an emerging markets crisis.
We are seeing an over-extended set of Cycles that are clearly turning.  Perceived problems in emerging markets are simply a catalyst for turns in the longer Cycles.  Elevated sentiment and extended moves cannot extend past the point where no buyers remain to perpetrate the move.  When the profits become too large and a move is clearly unsustainable, "smart money" begins to cash in their chips. This withdraws support from an already extended and fragile rally.
The S&P Daily Cycle is still a little short of the normal timing band for a Daily Cycle low…but anytime a Cycle passes day 30, it has the potential of forming a DCL.  In this case, a short DCL is especially possible because of the technical damage sustained in the past 10 sessions.  Cycles mark swings in sentiment, and the technical indicators clearly show that equity markets are short-term oversold.  At this point, I would not be at all surprised if Monday becomes Day 1 of a new Daily Cycle.  But if the current Daily Cycle has not ended, I expect a few days of recovery followed by a final fast drop into a DCL.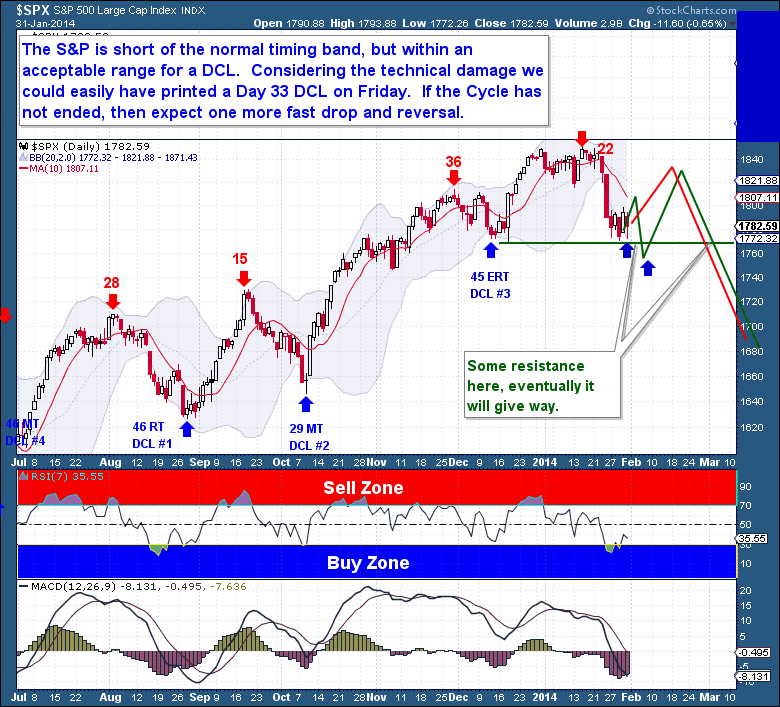 The above illustrates a Daily Cycle that is oversold, but does not capture what's occurring on the weekly chart.  In my opinion, the character of the equities market has changed significantly, with an unmistakable shift in sentiment to the bearish side.  During the past few weeks, investors have begun to worry that erratic action in the emerging markets will spill over into the developed world's equity markets.
If the Federal Reserve's policy of QE was the primary reason for a world-wide boom in equities, it stands to reason that QE tapering will have the reverse effect.  At the same time, it is a convenient explanation for an equity decline that fulfills the need for an Investor Cycle Low.  ICLs occur on average every 24 weeks and, with the current IC at 30 weeks and far into an extended move, an ICL is well overdue.
The wait is finally over. There is zero doubt in my mind that the current Investor Cycle topped on week 29 and is now in decline.  The fear sweeping the markets will only accelerate, eventually becoming pervasive.  That's how Cycles flow – by the time of the next Investor Cycle Low, there should be widespread panic and capitulation.  My expectation at present is that the 200dma, currently at 1,706, will be the minimum downside target.
What's still unclear is how quickly price will move into the ICL.  Two scenarios exist: either we fall straight for 3 more weeks, or we first bounce in a new Daily Cycle and find the ICL at the end of March.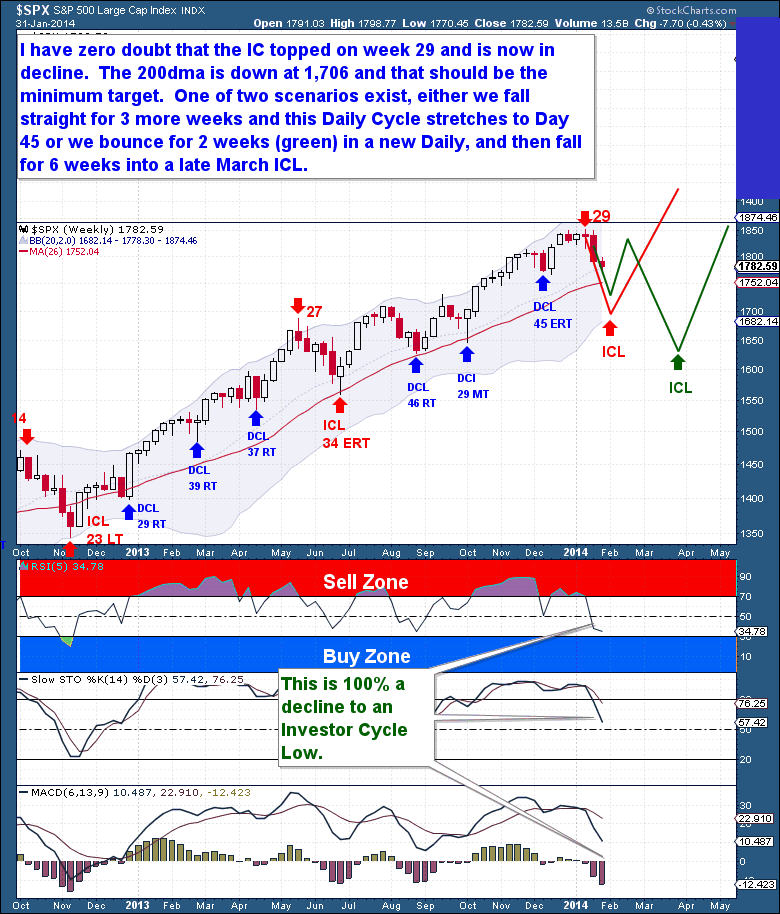 Moving further out in time, it's easy to see that the current, long bull market is almost certainly near its end.  But whether equities will make new highs in 2014 is still unclear.  I do expect that, no matter how deep the coming Yearly Cycle decline, the FED will step in to support the market.  There is no chance that Janet Yellen's FED will stand idly by while the markets fall into a threatening correction.  As a result, a rally this spring will likely be only a knee-jerk reaction to FED action, and will mark the last hurrah of the current cyclical bull market.
Related Posts:
Volatility Is Coming, But Which Direction?
Speculative Buying Underlies Strength In Silver
Bearish COT Report Fuels Oil's Mini-Crash
Leave a Reply
You must be logged in to post a comment.