By Poly
I'm amazed at the markets ability to keep pushing the equity markets higher without coming up for air.  The volumes are very light and the public remain sidelined.  This move is on autopilot as the "Bots" ride the trend while the fund and money managers are afraid to be out of the action.
But the S&P is now getting dangerously overbought and stretched.  Now very clearly into the 4th Daily Cycle, the S&P has pierced its 20dma (more than 2.5% above its 20dma) envelope and is sitting right on the upper Bollinger band.  Because the Equity Cycle is on Day 15 and nearly 100 points above the prior DCL the odds are extremely high that today marked at least a Half Cycle Top.  I'm not saying the primary move is necessarily over, but some consolidation on the Daily chart is extremely overdue.
The real story of this equity move is on the Investor Cycle chart.  Amazingly it looks as if the Equity markets have bucked what looked to be a certain IC Top.  The Cycle was well and truly deep into the timing band and the technical divergences we confirming a Cycle top.
But just as the Cycle began turning lower, a new wave of buying rushed into the markets.  I'm not entirely sure how to explain it because the move has little precedence.  I think attributing it to the FED's POMO activity is probably an oversimplification.  What the markets have become is grossly irrational in light of the fundamentals and this type of behavior (or divergence) is almost exclusively reserved for those big cyclical market tops/lows.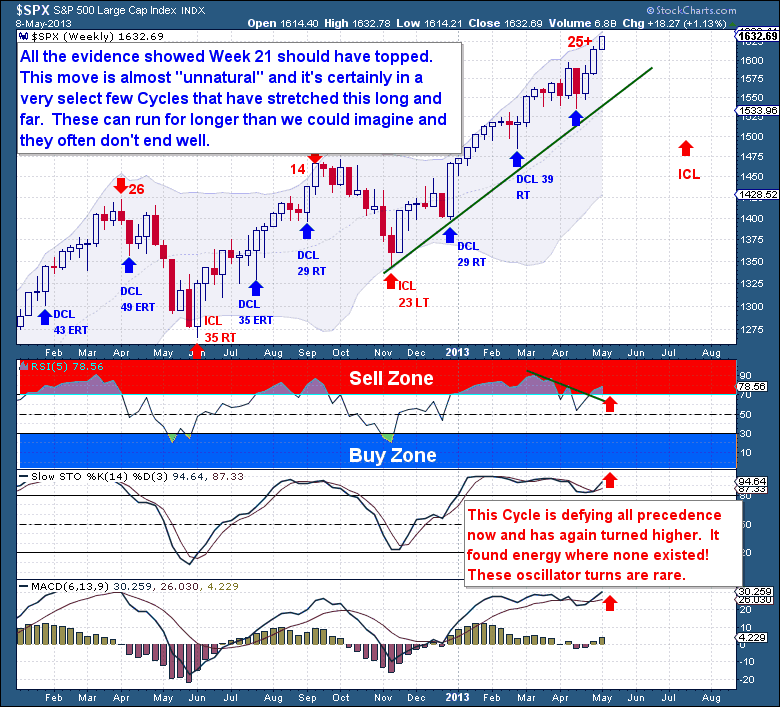 So this irrationality is a sign of a major market top being hammered out.  But the problem with these moves is that they always extend further and longer than we expect.  I have no doubt that within the next 1-4 weeks that the S&P will drop more than 100 points, an ICL is desperately needed.  But we can not discount the markets ability to run sharply higher out of the next ICL, so therefore we cannot say for sure if the 4 Year Cycle Top is going to print with this Investor Cycle.
This as is an excerpt from the Midweek's  premium update  from the The Financial Tap, which is dedicated to helping people learn to grow into successful investors by providing cycle research on multiple markets delivered twice weekly. If you'd like to receive real time alerts as well as the most up to date reports, you may want to take their 

FREE 15-day trial

 to fully experience what they offer. 
Coupon code 
(ZEN)
 saves you 15%.
3 Responses to "Equities Are Dangerously Overbought"

Leave a Reply
You must be logged in to post a comment.