By Poly
This is an excerpt from this week's premium update from the The Financial Tap, which is dedicated to helping people learn to grow into successful investors by providing cycle research on multiple markets delivered twice weekly. Now offering monthly & quarterly subscriptions with 30 day refund. Promo code ZEN saves 10%.
I'm going to spend little time on the equity markets this week, covering just the fundamentals of where the Cycle's stand. I'm convinced now that the equity markets are peaking, into their final bull market speculative run that will soon end badly for these markets. But soon is a relative term, considering that this bull market is fast approaching its 6th anniversary.
A flat and tight week for the equity markets, I suspect because the S&P is already well into the Half Cycle Low that it's keep a lid on the recent move. So I'm going to consider this sideways move as consolidation at that HCL juncture, where normally we would be seeing a decent drop into that Low. To me, this only highlights the speculative (runaway) move the markets currently find themselves in. The fact that after a 220 point record setting run that we're not seeing even a token decline is indicative of where we stand in the bull market Cycle.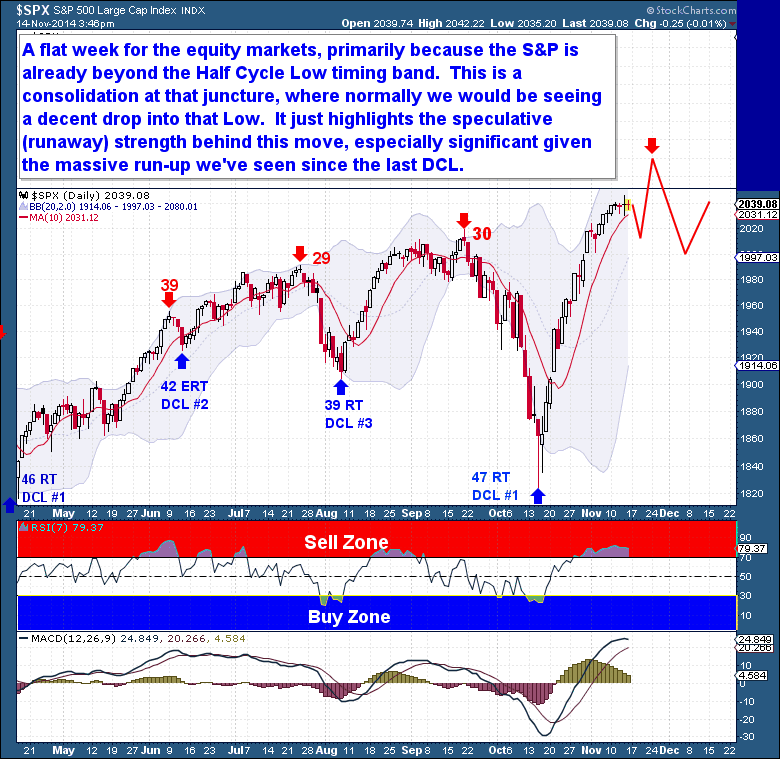 Of course we would be crazy to bet against this move because it's just far too strong. It's a bull market in its most dangerous point of the Cycle, which is why of late it has shown a complete disregard for any conventional analytical study. In theory, we could see this market spike yet another 150 points before the holidays are through, and honestly it would still fit the profile of a speculative blow-off top.
But at the same time, I'm bothered by so many underperforming indices (divergence). Its never different this time and at some point very soon the market will turn and drop like a stone. The recent Investor Cycle failure that went on to make new all-time highs is yet another symptom of that disregard for any study, but it also confirms that this market is running wild on "animal spirits". I eagerly await the outcome of this move.

Related Posts:
Crude Has Likely Hit Rock Bottom
Leave a Reply
You must be logged in to post a comment.