By Poly
This is an excerpt from this weeks premium update from the The Financial Tap, which is dedicated to helping people learn to grow into successful investors by providing cycle research on multiple markets delivered twice weekly. Now offering monthly & quarterly subscriptions with 30 day refund. Promo code ZEN saves 10%.
| | | | | | |
| --- | --- | --- | --- | --- | --- |
| Cycle | Count | Observation | Probable Outlook | Cycle Clarity | Trend |
| Daily | Day 23 | Range 36-42 Days – 2nd Daily Cycle. |  Caution | Green | Up |
| Investor | Week 9 | Range 20-24 Weeks | Bullish | Green | Failed |
| 4Yr | Month 76 | Range 50-56 Months- 8th Investor Cycle. | Bearish | Green | Up |
This move is looking suspicious to me due to its intensity and appearance. My take on this massive move is that it's reactionary and desperate in nature, too late in the bull market for participants to frantically need to have full exposure. I'm keeping an open mind to both possibilities here, but this is my overall feeling based more on intuition rather than any technical study.
But then again, who are we to argue with this strength! One thing is for certain, no one should be trying to trade this short (unless supported by Cycle position) as if it is only a larger counter-trend move. One hallmark of this bull market has been that many have, at significant personal cost, continuously doubted this market.
From a Cycle perspective, this is obviously a strong 2nd Daily Cycle, there is no ambiguity. Coming off a rather significant correction, we're in that transition stage where we just don't know where the next Investor Cycle is heading. This makes favoring a position difficult because the Cycle could still be setting up for a continuation of that correction or of course the start of another bull market leg.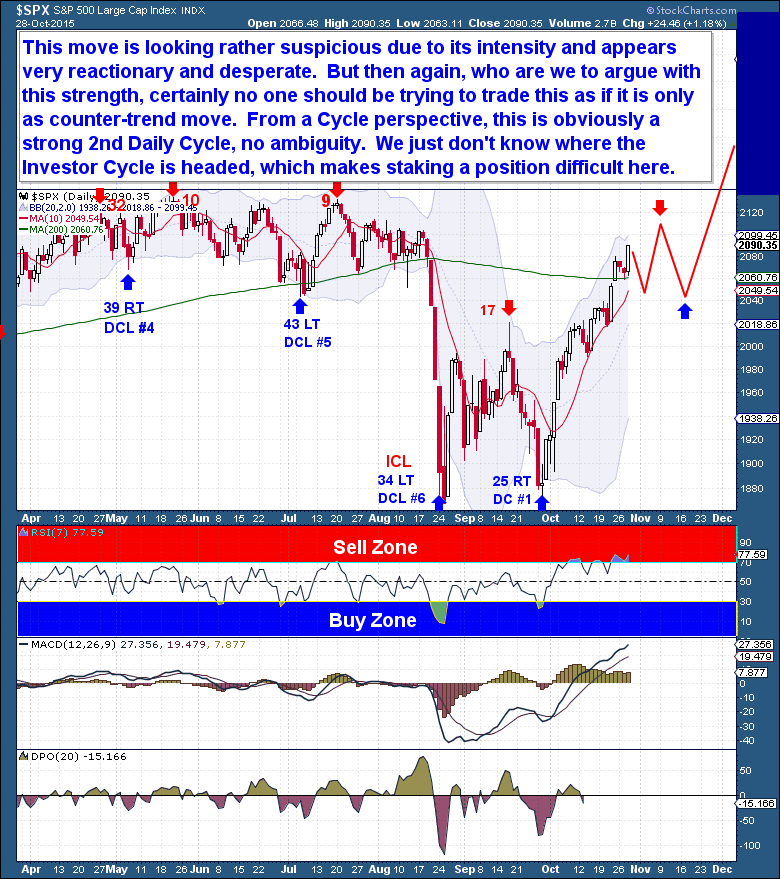 Leave a Reply
You must be logged in to post a comment.