By Poly
This is an excerpt from this weeks premium update from the The Financial Tap, which is dedicated to helping people learn to grow into successful investors by providing cycle research on multiple markets delivered twice weekly. Now offering monthly & quarterly subscriptions with 30 day refund. Promo code ZEN saves 10%.
Cycle Counts
| | | | | | |
| --- | --- | --- | --- | --- | --- |
| Cycle | Count | Observation | Probable Outlook | Cycle Clarity | Trend |
| Daily | Day 13 | Range 36-42 Days – |   | Green | Failed |
| Investor | Week 13 | Range 20-24 Weeks |   | AMBER | Failed |
| 4Yr | Month 76 | Range 50-56 Months- 8th Investor Cycle. | Bearish | Green | Up |
As I reported this past weekend, the 2,022 level was very likely going to provide some strong resistance to the S&P. Although it was a natural "double top" selling location, the main problem for the S&P was one of short term exhaustion. After a 140 point rally in just 10 sessions, the advance was simply spread too thin and ran out of steam.
The drop over the past few session therefore was expected. This retracement back to the 10dma is not a sign of any weakness, but rather just some back-filling after such an impressive move. For any longer term directional clues, we need to wait and see how it responds here at the 10 day moving average. We're likely to see another attempt higher develop in the comes days, so if the 2022 highs are exceeded on that attempt, then we must consider Aug 24th a major Cycle Low and to expect a run up in the coming weeks towards the all-time high levels.  On the flip-side, a breakdown from these levels provides for yet another whipsaw event and the possibility that the market still intends to form a deeper correction, into the holiday period.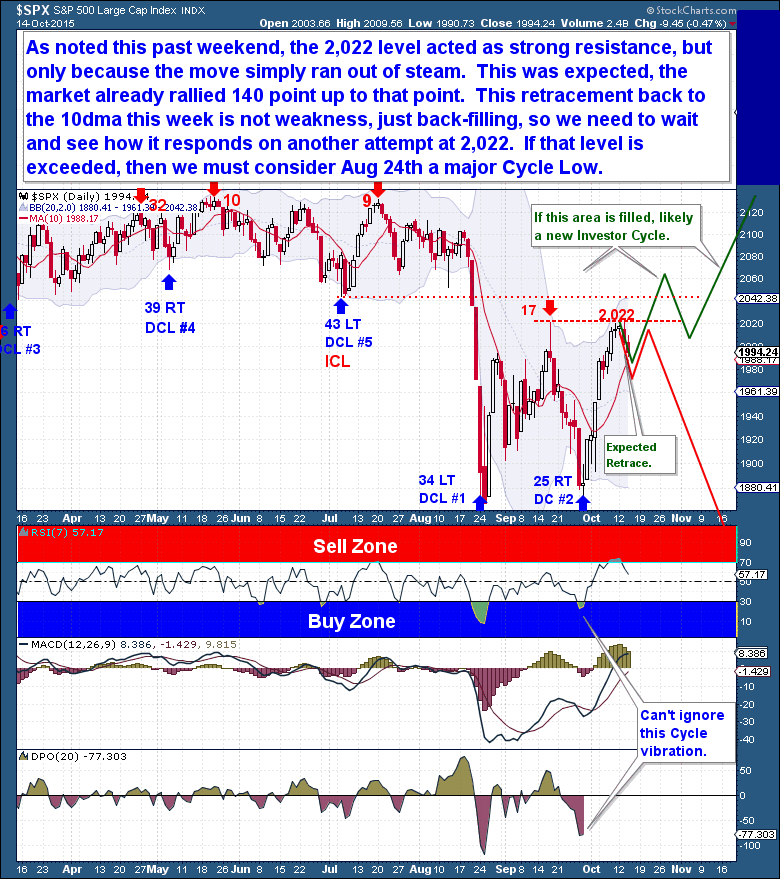 Leave a Reply
You must be logged in to post a comment.