By Poly

This is an excerpt from Wednesday's  premium update  from the The Financial Tap, which is dedicated to helping people learn to grow into successful investors by providing cycle research on multiple markets delivered twice weekly. They now offer monthly and quarterly options to subscribe. 
In the weekend report I stated that Aug 21st appeared to have been a Cycle Low, but obviously that is not the case.  For a 1st DCL, that low on Aug 21st fit perfectly with the type of retracement one should expect.  Some might be wondering if this could be day 5 of a failed Cycle, but I believe technically there is no chance this is such a failed Cycle.  The oscillators barely turned higher and the trend-line not even remotely approached.  Based on the 18 months of strength we've just seen there is no way we're going to see a Day 3 top and failed Cycle so soon.`
We have to assume then that we have a slightly stretched (46 days) Cycle here with today marking a potential DCL.  Is the Syrian rhetoric really to blame for this more than expected weakness, I highly doubt it.  In fact I can barely keep a straight face just thinking how ludicrous the idea that potentially striking Syria is bringing the equity markets down.  The simple fact is that this is weaker than expected action for a 1st DCL and there appears to be some significant distribution occurring in this market now.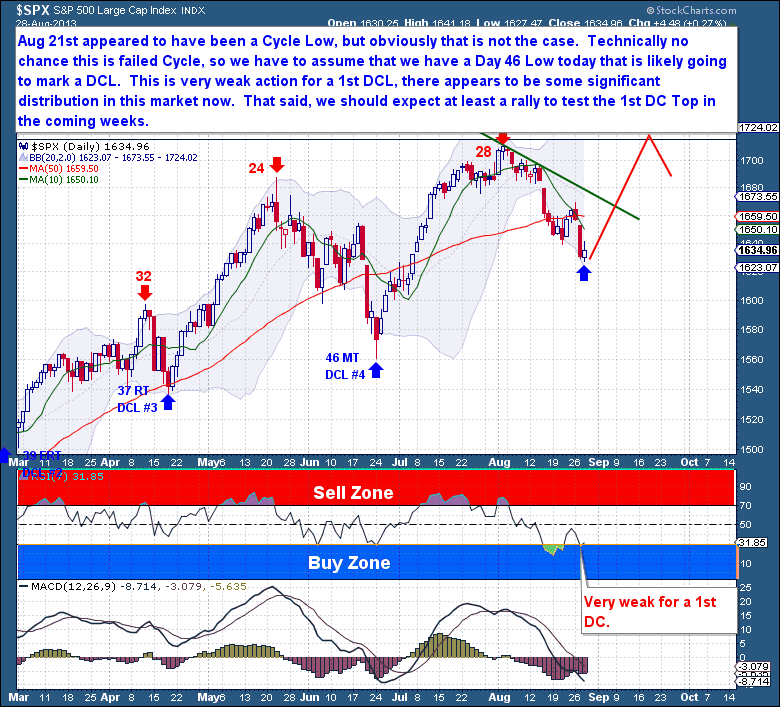 With this Cycle now stretched and fairly oversold, we should expect at least a rally to test the 1st DC Top in the coming weeks.  I firmly believe that the more dominant weekly and monthly Cycles are topping out here, but one should not expect the equity markets to simply roll-over.  We're still seeing a massive influx of retail and margin debt capital which will continue to sustain these markets for the immediate future.
Technically I'm starting to see some very concerning divergences develop on the Investor Cycle charts.  On a weekly level I'm seeing serious signs of exhaustion and as I warned last month we would begin to see deterioration within the markets breadth indicators too.
In fact many of the technical indicators I track have this DCL on par with the levels seen at the last ICL.  For an ICL this would be normal, but to see these levels being hit here on the 1st DCL is telling me that we're approaching the massive autumn top that I'm expecting.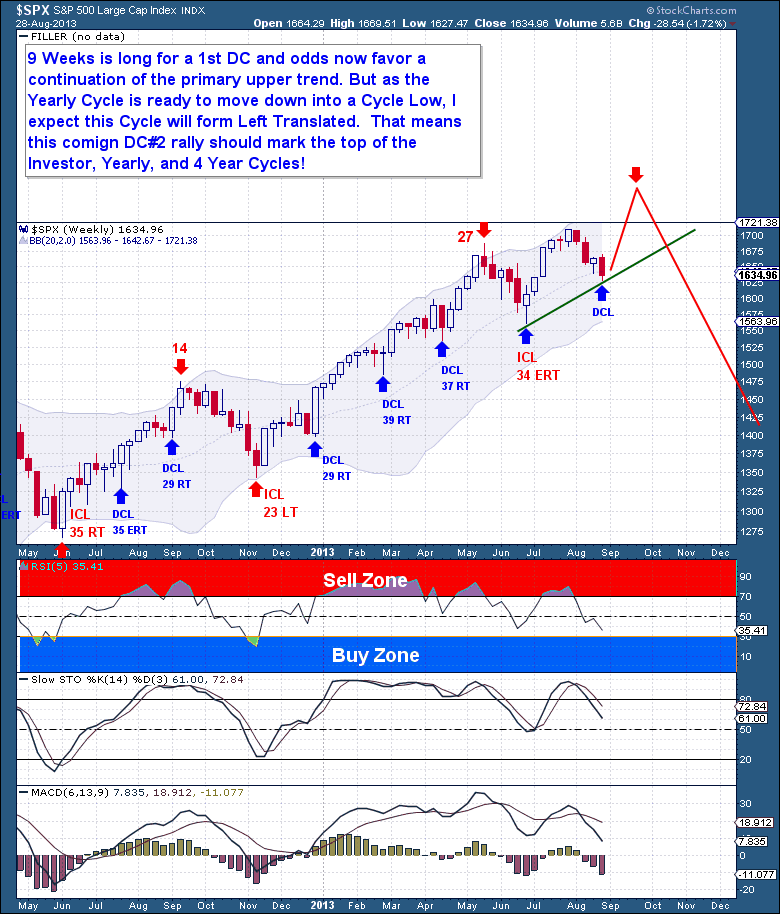 Leave a Reply
You must be logged in to post a comment.