By Poly 
The Euro is 56% of the Dollar Index and therefore its movements will directly impact the above Dollar index chart.  The Euro is in the timing band for a top and could be ready to begin moving lower towards an eventual ICL.  The $1.36 top set two weeks ago is potentially the IC top and if so, we should see a breakdown of the 13 week up trend line occur within the next few weeks.  But that might be a little premature, the Euro is well correlated with risk markets and therefore I doubt the move has ended.  The Euro Daily Cycle is showing that it's ready to form a DCL and move higher over at least 3-7 sessions.  That bounce should be good for a move back to at least $1.35 which would set the scene for a potential double top near $1.36.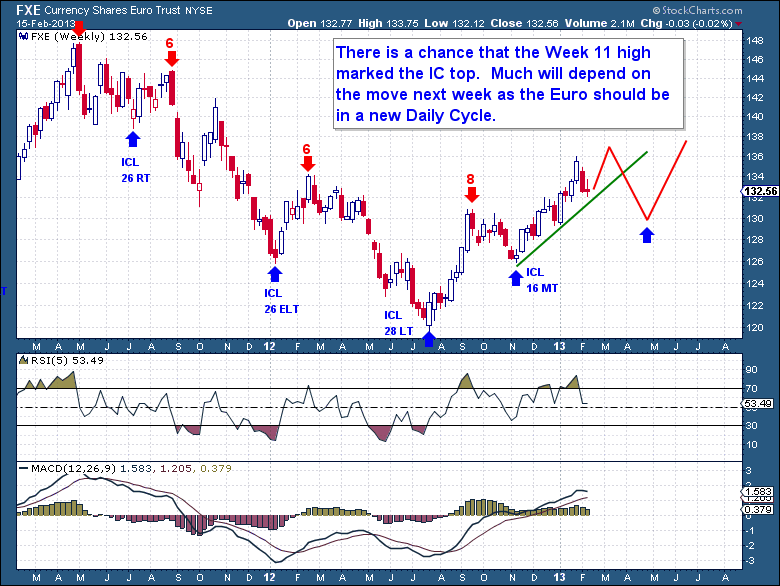 This is an excerpt from this weekend's premium update published on Saturday (2.16)  focusing on the Euro from the The Financial Tap, which is dedicated to helping people learn to grow into successful investors by providing cycle research on multiple markets delivered twice weekly, as well as real time trade alerts to profit from market inefficiencies. 
They offer a FREE 15-day trial where you'll receive complete access to the entire site. Coupon code (ZEN) saves you 15%.
Related Post:
"Fear Of Missing Out" Is Driving This Rally
Conflicting Influences Are Distorting Gold's Price
Leave a Reply
You must be logged in to post a comment.