By Poly

This is an excerpt from this past weekend's  premium update  from the The Financial Tap, which is dedicated to helping people learn to grow into successful investors by providing cycle research on multiple markets delivered twice weekly. Now offering monthly/quarterly ways to subscribe complete with 30 day refund.
If Dollar sentiment is a warning that the Investor Cycle is coming to an end, then the same conclusion can be drawn from the Euro COT report.  It shows that Large Speculative bets on a rising Euro are at 2+ year highs, an extreme level that often marks a key Cycle pivot. The Commercial Traders (smart money) are net short the Euro for only the 2nd time in this 3 Year Dollar Cycle, so this is not a positive development for the Euro. Remember, though, that the COT reports are not in themselves a timing tool – but they do provide complimentary indicators to support the overall Cycles framework.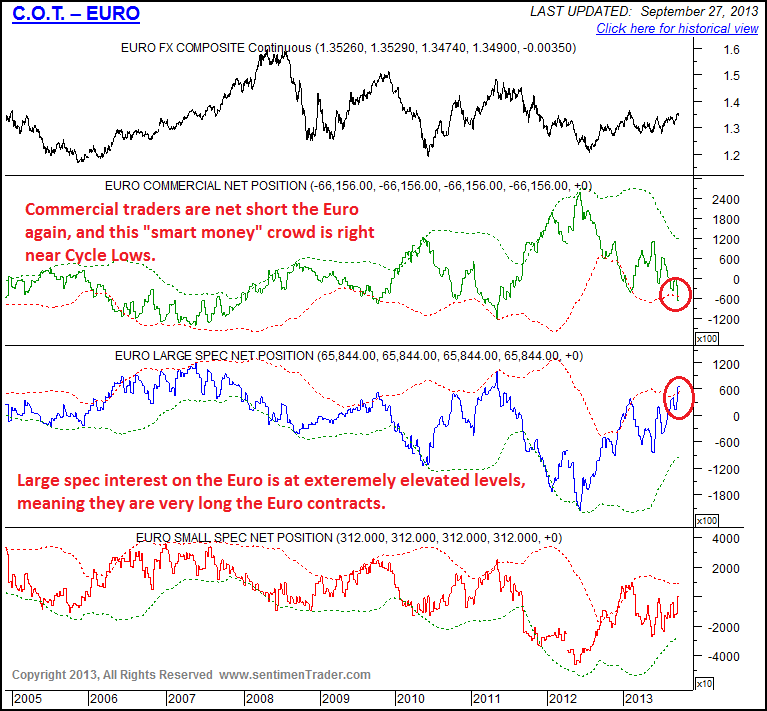 The Euro put in a higher Top in this Investor Cycle, negating a major weekly H&S pattern. The move higher confirms that the primary trend for the Euro is up, and that we should expect to see a continuation of this trend after the Euro completes its ICL. The Euro is only just breaking out of a 7 month consolidation, so I expect a sentiment clearing retracement into an ICL to recharge the Euro for another run higher.   
At 12 weeks into an overbought Investor Cycle, the Euro has moved into the timing band for an Investor Cycle Top.  Both sentiment and the COT report show levels that are indicative of a top, so investors should be prepared for the Euro to consolidate gains by moving toward its ICL.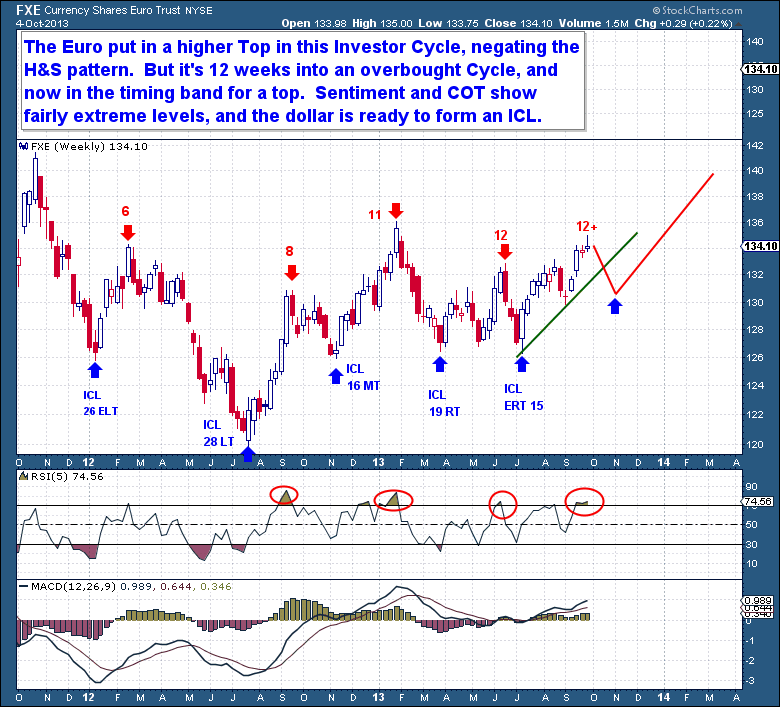 The discussion of the Euro is critical to understanding the US Dollar. The Dollar's weekly chart shows the momentum is now clearly to the downside.  Although the current Dollar IC is near completion, it topped in just 4 weeks and failed, strong evidence that 3 Year Dollar Cycle that has also topped.  But with the Euro ready to move downward into its ICL, there is reason to believe that a further move down by the Dollar may not be immediate.
One Response to "Euro's New High Negates H&S Pattern"
Leave a Reply
You must be logged in to post a comment.