By Poly
I often present sentiment charts and I do this because they fit well with Cycles analysis.  Sentiment reflects human emotion and Cycles capture the recurring ebb and flow of this emotion towards an asset.  So the below chart is not a timing predictor, but one that demonstrates just how negative sentiment has moved against the gold Cycle.  Whenever a Cycle stretches so far with corresponding extremes in sentiment, the odds greatly favor a reversal back towards the mean is likely to occur.  Regardless of where gold is headed over the intermediate timeframe, the need to correct this imbalance is pretty strong.  I'm looking for a reversal back to at least a more neutral state.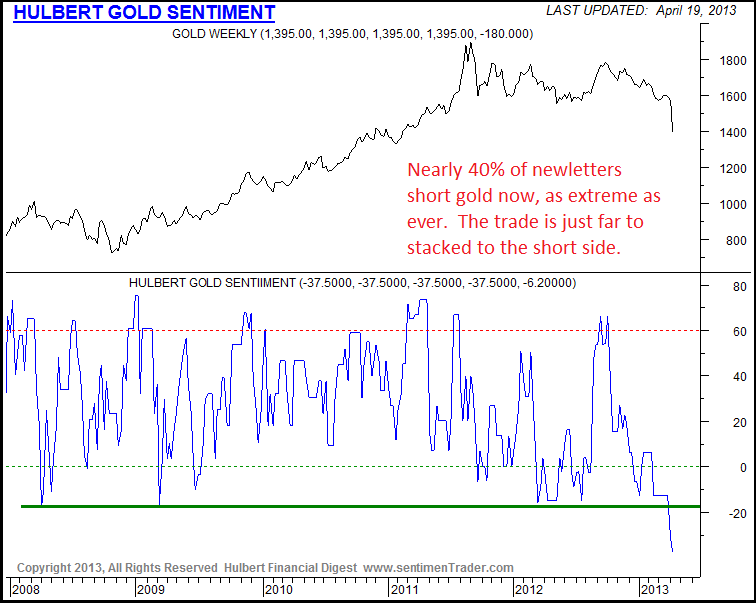 Why is this important?  Because I believe that even if the gold bull is locked in a new bear market, that a bounce is needed first.  The sentiment towards gold is just so negative and the trade stacked against it now that "new blood" needs to enter before this market could turn lower in a sustained fashion.  Its been 6 straight months of declines and even bear markets are known to have very violent and extreme short covering rallies.
Herein lays the problem, potential, and the risk for gold followers.  This recent action has violated the 12 year bull market channel and the very future of this bull market is rightly now in question.  Clearly the monthly drop below this channel has pushed sentiment to extremes.  It has encouraged mainstream financial media to write a plethora of negative articles on the death of this bull.
But on the flip side gold is the most oversold, over extended, short-stacked, and under-loved that it has been during this bull market.  These are the conditions that spawn rallies, especially the violent counter-trending variety.  Again this is not a prediction, but once gold finds a Cycle Low in the coming weeks, it could be set to rally $200 plus back to $1,500-$1,600 before we know exactly what its long term intentions are.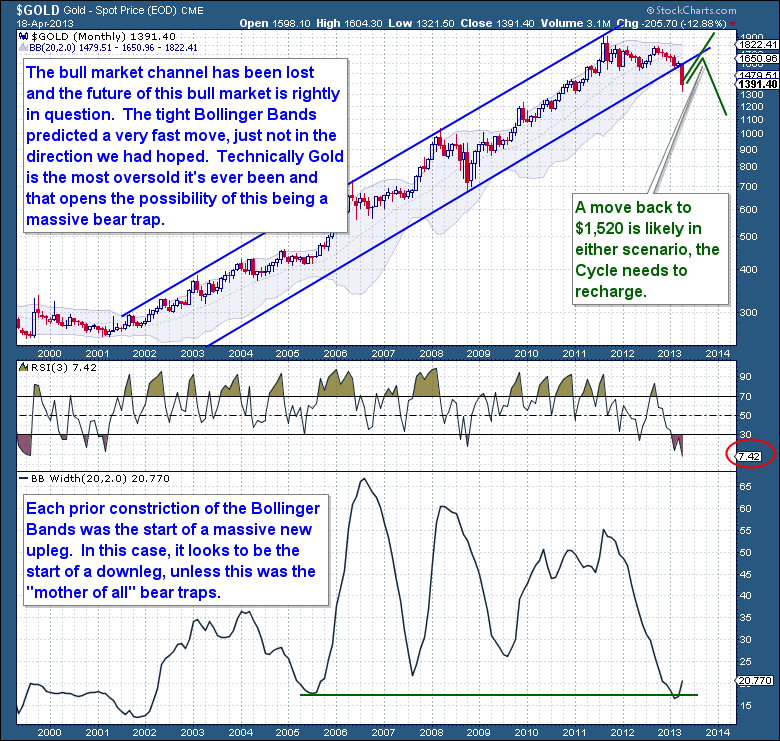 But unfortunately this is not a tradable prediction.  The complete breakdown and loss of that large $1,520-$1600 support zone has made gold a very unpredictable asset.  At this point it's capable of almost anything, and that's what makes it untradeable.
This as is an excerpt from the Weekend's premium update  from the The Financial Tap, which is dedicated to helping people learn to grow into successful investors by providing cycle research on multiple markets delivered twice weekly. If you'd like to receive real time alerts as well as the most up to date reports, you may want to take their 

FREE 15-day trial

 to fully experience what they offer. 
Coupon code 
(ZEN)
 saves you 15%.
One Response to "Extreme Percentage Of Newsletters Short Gold"
Leave a Reply
You must be logged in to post a comment.