By Poly
This is an excerpt from this weeks premium update from the The Financial Tap, which is dedicated to helping people learn to grow into successful investors by providing cycle research on multiple markets delivered twice weekly. Now offering monthly & quarterly subscriptions with 30 day refund. Promo code ZEN saves 10%.
Cycle Counts
| | | | | | |
| --- | --- | --- | --- | --- | --- |
| Cycle | Count | Observation | Probable Outlook | Cycle Clarity | Trend |
| Daily | Day 50 | Range 36-42 Days (2nd Daily Cycle) | Bearish | Green | Down |
| Investor | Week 21 | Range 20-24 Weeks | Bearish | Green | Down |
| 4 Year | Month 6 | Range 48-52 | Caution | Green | Down |
When it comes to Crude, my only real regret was not going Short at the breakdown of the massive May-June consolidation. It was clear at the time that any break would be the start of a major new move, and it was a failure not to take advantage of the break down. But that said, I doubt that any Short positions entered at that time would still be active today. The extreme nature of the decline would have likely forced many to take profits.
The problem we face now is finding a recognizable DCL. With any asset that is literally crashing, and especially with Crude, identifying a low can be a challenge. The same problem emerged in the winter, when Crude was also free-falling. At the end of the decline in March, the fall looked to have been part of one very long Cycle. There was no apparent DCL, although I'm sure that there was one somewhere along the way. It just didn't register via a significant price change.
In currently identifying a DCL, we need to keep an eye on the sharply declining trend line for signs of a counter-trend rally; it might take a big break of the trend line to provide evidence of a Cycle Low. Absent a significant trend line break, traders should expect a continuation of the decline until the next major Investor Cycle Low.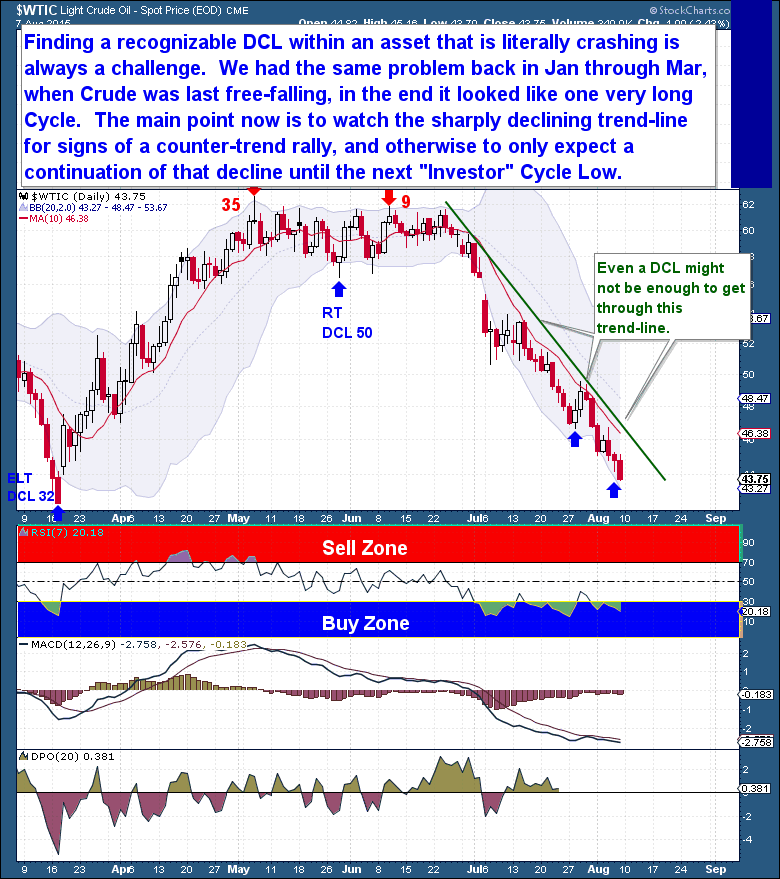 As I anticipated might happen, the Crude weekly Cycle is back in decline mode. Based on past experience, price could simply remain bearish and collapse for many more weeks, despite the size of the current decline and extreme technical readings. And that's the problem with trading Crude. Its moves can be so extreme that it is impossible to take a position. In this case, however, since Crude has moved through the lower Bollinger Band, I expect a short bounce in the coming week before it again falls toward the next ICL. Any rally back to the $50-$53 level is likely to be a good place to try a Short trade.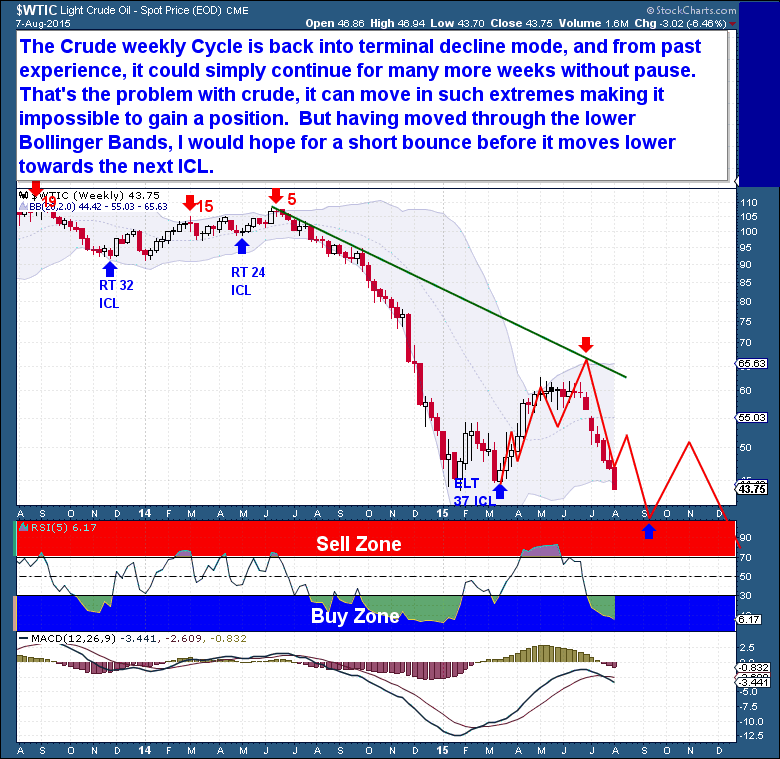 Leave a Reply
You must be logged in to post a comment.