By Poly

This is an excerpt from Wednesday's  premium update  from the The Financial Tap, which is dedicated to helping people learn to grow into successful investors by providing cycle research on multiple markets delivered twice weekly. They now offer monthly and quarterly options to subscribe. 
Today we have a Cycle trend-line break which confirms what we already knew, that the Cycle had already topped.  It's going to be very interesting to see how the dollar performs over the coming weeks, because it really has the potential to lose some considerable ground now.  The Daily Cycle still has plenty of room left to fall, and because we're so very late in the Investor Cycle, I expect much more weakness ahead.
Beyond this Daily Cycle also, this Investor Cycle still supports yet another Daily Cycle.  As the Cycles are in a failed state, another Daily Cycle is very likely to be extremely Left Translated, and that means potentially up to 4-6 more weeks of a falling dollar.  The market has priced in some FED "tapering" in September, so if Bernanke comes out next week and does not taper then watch for his dovish tone to send the dollar into free-fall.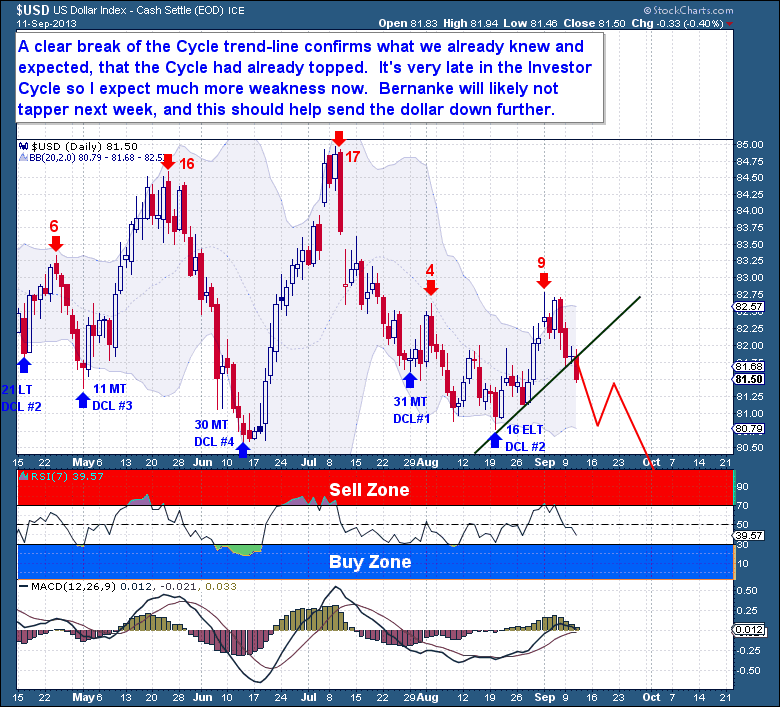 Leave a Reply
You must be logged in to post a comment.