By Poly

This is an excerpt from this week's  premium update  from the The Financial Tap, which is dedicated to helping people learn to grow into successful investors by providing cycle research on multiple markets delivered twice weekly. 30 day refund available if not 100% satisfied. 
More dollar weakness as the move towards the looming Cycle has quickened. This was expected, it's very typical for the final Cycle to struggle this way. This downside move is becoming very crowded now; I have been fairly vocal with regards to the Dollar being oversold on both a Daily and Weekly chart.
Now we have a situation where both the Daily and Investor Cycles are in the timing bands for Cycle Lows. But more importantly, our toolbox of confirming indicators (COT, Sentiment, RSI, MACD, Timing, etc.) all support the dollar finding a Cycle Low. Basically, everything points to an imminent turn; it's now just a matter of time.
The one caveat here is the Daily Cycle is slightly on the short side, so it does support another move lower. As we've seen 4 straight failed DC's, seeing another 4 days of declines would not surprise me. But in any event, we're very close now, there is no doubt. The dollar is likely just a Swing Low away from both new Daily and Weekly Cycles.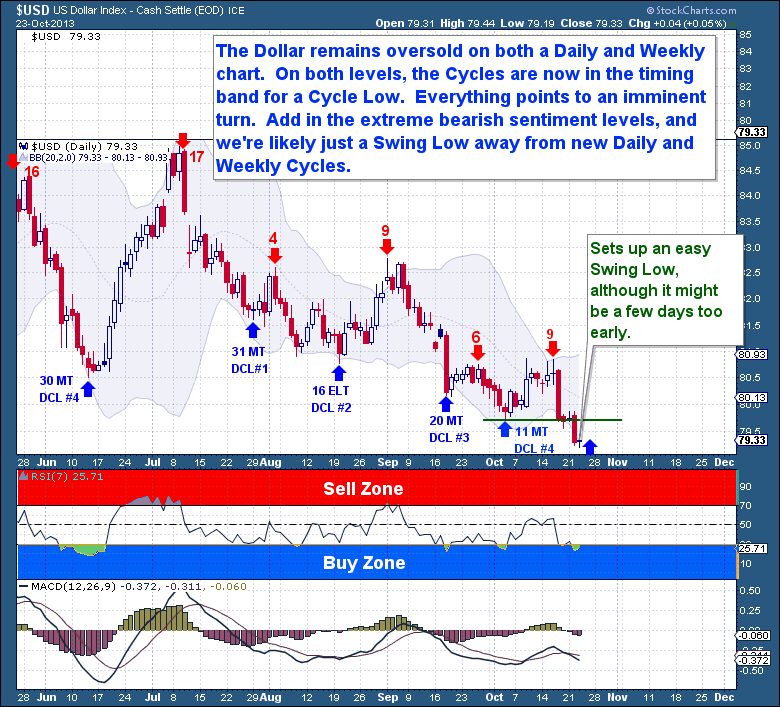 Investor Cycle Trading Strategy – $US DOLLAR
REPRINT: "The dollar has likely topped from a 3 Year Cycle standpoint, but that doesn't mean the coming ICL won't produce a decent IC rally. This IC has become considerably oversold which likely result in a fairly impressive counter trend rally. Therefore, I'm looking at shorting the Euro once the dollar forms its ICL in the coming 5-10 days. "
We're now 3 days closer to the above trade post and I believe the next Dollar Swing Low will have me getting into a EUO position.
Daily Cycle Trader Strategy – $US DOLLAR
EUO looks like to be a very good setup and I'm considering taking two positions in the coming days. Waiting for a dollar Swing Low to initiate.
Leave a Reply
You must be logged in to post a comment.