By Poly

This is an excerpt from this Wednesday's  premium update  from the The Financial Tap, which is dedicated to helping people learn to grow into successful investors by providing cycle research on multiple markets delivered twice weekly. For more up to date commentary subscribe. Now offering monthly & quarterly subscriptions with 30 day refund available if not 100% satisfied. 
I've had a solid handle on this crude move for a few months now, but I've got to admit, this most recent action is a little baffling.  Crude is acting somewhat suspiciously as it's not conforming to any recognizable Cycle ending expectations.  That's because after a prolonged decline, whenever crude prints a Cycle Low, it almost always bounces out with vigor and authority.
With the most recent (5-7 days) action, we notice that our tracking oscillators have turned higher and crude has broken the trend-line, both of these are what you expect in a new Cycle.  So these should be bullish for crude, considering they're occurring in the timing bands for a DCL and ICL.  But, there is little strength to be seen, so the indicators are not being confirmed by any positive price action.  One could argue the divergence is a sign of price strength to come, but in my experience with crude, it's the price confirmation that comes first.
This leads me to believe that further downside could be coming, especially since the long 10 week decline remains the most dominant trend.  In addition, these sideways consolidations are typically continuation (lower) patterns of the recent trend.  So in keeping with my consistent theme of these past few weeks, until we see positive upside price action (close above $95.38), I continue to favor the downside possibilities.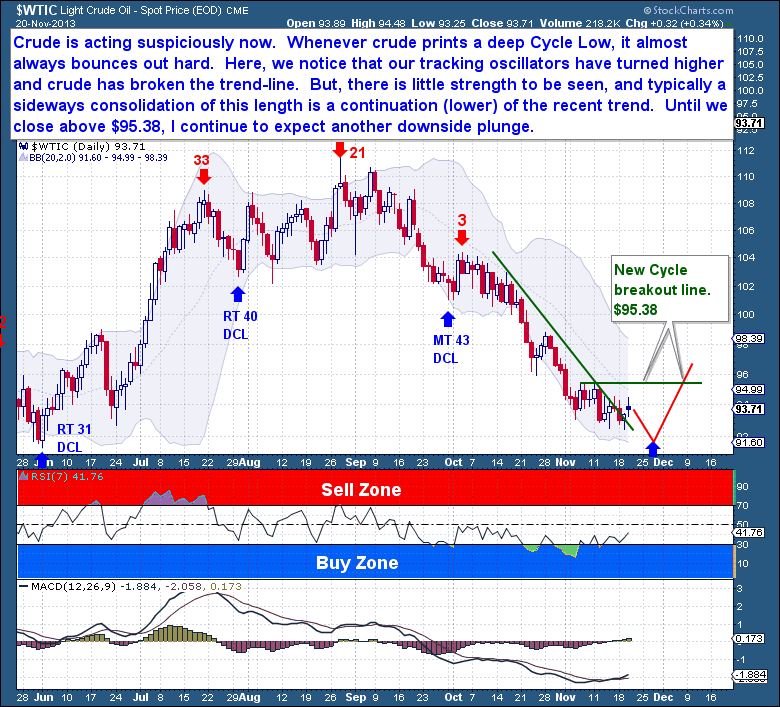 Leave a Reply
You must be logged in to post a comment.