By Poly

This is an excerpt from this weekend's  premium update  from the The Financial Tap, which is dedicated to helping people learn to grow into successful investors by providing cycle research on multiple markets delivered twice weekly. Now offering monthly & quarterly subscriptions with 30 day refund. Promo code ZEN saves 10%. 
It does not look good for gold here.  Yet another failed Daily Cycle, with what appears to be little downside resistance, sure does support the calls for gold to test the $1,080 level in the coming weeks.  As the crowds embrace the FED's stewardship and further cement the notion that the worst is firmly behind us, the need for gold suddenly is no longer there.  That's of course what makes a bear market, they're fueled by a lack of investor demand, a negative to horrendous outlook, with an unfavorable speculative environment.  Until that "rosy" environment for equities and the economy changes, I just don't see how prospects improve for gold.
In the end, it was just 4 days of strength for this 5th and likely final Daily Cycle.  That's not surprising; we know that all 5th Daily Cycles are Left Translated.  The $1,267 high made within this Daily Cycle will now go down as the upper ceiling for this Daily and Investor Cycle.  But don't expect to see gold come anywhere near this level again within this Cycle.  Final Daily Cycles very rarely ever offer any strength once they top and fail.  You can forget talking upside; the predominant fear now should be that gold enters a period of free-fall.
Being that we're already on Day 13, gold should have no more than 10 sessions left before finding a DCL and likely ICL.  A low in 10 days still fits neatly with a Left Translated top on the Equity Cycle, so the idea that gold and equities each find significant Cycle pivots, around the same time, remains a firm possibility.  But 10 sessions can be an eternity for gold in the final ICL stages.  It's not unrealistic when talking worst case scenarios to see gold fall all the way to $1,000 in these 10 days.  Granted, that's the extreme case, but don't expect anything bullish until we print the next ICL.  The 10dma, currently at $1,229, should halt any counter-trend bounce.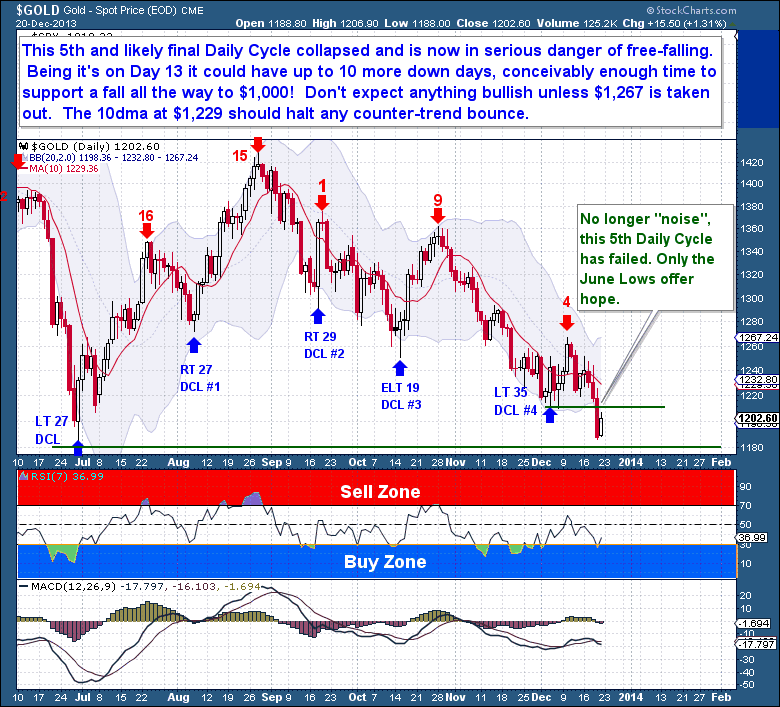 Hopefully by now you can see why I like to outline all alternative scenarios with a decent probability of succeeding.  A 5th Daily Cycle was not my primary thesis, but it was more than enough of a possibility to have it included within all my analysis.  Knowing that there was a real downside case has helped me avoid taking positions unnecessarily.
Just so I'm clear, this does not mean that I've given up on the June Lows as marking the bear market lows.  Although a 5th Daily Cycle was never a positive development, there remains a chance that this Cycle Low holds above $1,179.  No doubt it would be a surprising, given that we're in a failed Daily Cycle.  However, with the equity markets likely just days from a Yearly Cycle top, and the gold Cycle potentially only 5 sessions from an ICL, the scene still supports a case where gold finds a double bottom.
But no point in speculating, which is essentially what we're doing with any discussion concerning the coming ICL.  The important or actionable theme here is that gold is in trouble, possibly on the verge of yet another bear market capitulation.  If those June lows hold up here and gold rallies back above $1,267, then you better believe a massive rally is coming.  It would be a perfect retest of the June lows and confirmation that this Investor Cycle has ended without making a deeper low.  That's the type of environment which could see gold rally $400 in just a short 10 weeks.
One Response to "Gold Bugs Look Out Below"

Leave a Reply
You must be logged in to post a comment.