By Poly
Although this remains a Day 20 Cycle that has yet to form Right Translated, there are some positive aspects to this Cycle that offer some encouragement. Gold's ability to hold the 10 and 20 dma line and continue to rise this deep into a Left Translated Cycle is positive news.  It's positive because by Day 20, a true Left Translated Cycle would have failed by now, and certainly not sit just $13 from its Cycle highs.
But to be honest, I'm not entirely sure of what to make of this Cycle.  From a pure Cycles standpoint, these types of Cycles (flat 1st DC's) are fairly uncommon.  The few examples I was able to find do not offer much help, as some marked a pause in a greater continuation pattern, while others actually marked a period before a major trend change.
From my tape read of this Cycle, again it's a mixed bag of possibilities.  I don't see a sense of buying urgency here, so it's hard to envision it just taking off.  But it also does appear as if the selling has been exhausted too.  It's been a bruising 19 months of action and I get the sense that the speculative and weak hands have finally vanished from this space altogether.  The COT report is no longer stacked against the metals and we no longer see those swift "stop hunting" raids in the gold futures market.  I do not have any direct evidence to support it, but it would appear as if the metals and the miners are currently being accumulated.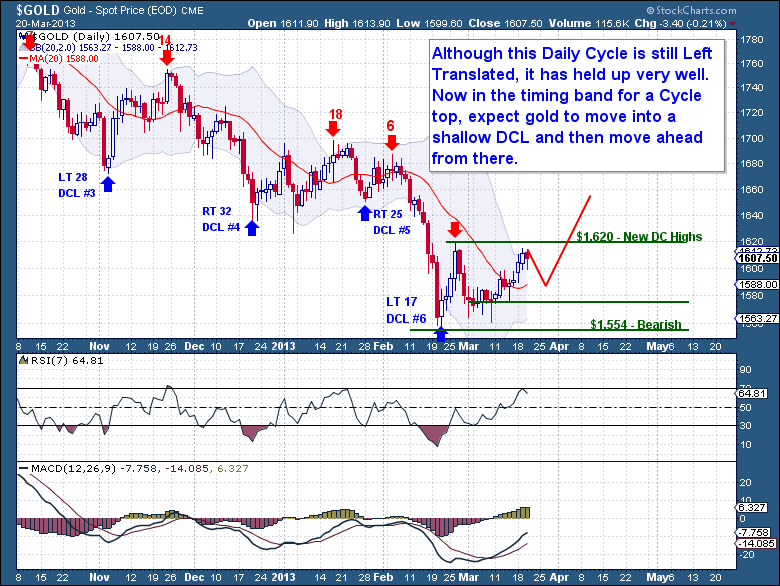 I'm afraid to say that the above gold Cycle analysis is not the type of conclusive and confident prediction one likes to hear.  But as a realist, I can't sugar coat my message so that it's palatable to your bias.  The fact is that the evidence is stacked towards the bullish argument, but the recent history has been clearly bearish.
This as is an excerpt from Midweek's premium update published on Wednesday (3.20)  focusing on the Gold Cycle  from the The Financial Tap, which is dedicated to helping people learn to grow into successful investors by providing cycle research on multiple markets delivered twice weekly, as well as real time trade alerts to profit from market inefficiencies.
They offer a 

FREE 15-day trial

 where you'll receive complete access to the entire site. Coupon code (ZEN) saves you 15%.
Leave a Reply
You must be logged in to post a comment.