By Poly
The waterfall decline I've been expecting has essentially now been satisfied (Red line).  The Cycle has run into the 25 day range and is more than ready to print a Daily Cycle Low.  Technically gold is oversold to the level where DCL's have comfortably formed.  From this point forward it should be argued that a Swing Low would hold a very high chance of confirming a DCL.
But my overriding problem is with the shape and feel of this decline.  It's a waterfall alright, but it's a controlled one, and that is not normal.  This 7 straight day losing stretch has knocked off over $100, but it came with little panic, average volume, and a lack of capitulation selling.  I want to see this positively, so it could well be a low volume and diverging (technicals) retest of the April 16th,$1,321 lows.  But I honestly can't say that for sure, my experience with gold Cycle Lows tells me this is too tame.  For this reason we could see one or two more real capitulation sessions (Green Line) that pushes gold down into the $1,200's, and that should mark the final ICL.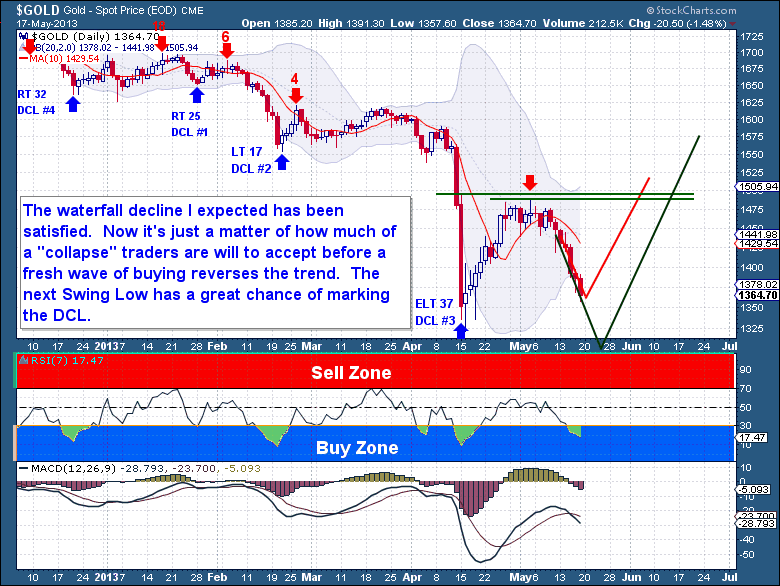 This as is an excerpt from the Midweek's  premium update  from the The Financial Tap, which is dedicated to helping people learn to grow into successful investors by providing cycle research on multiple markets delivered twice weekly. If you'd like to receive real time alerts as well as the most up to date reports, you may want to take their 

FREE 15-day trial

 to fully experience what they offer. 
Coupon code 
(ZEN)
 saves you 15%.
Leave a Reply
You must be logged in to post a comment.