By All About Trends
Today is the 3rd up day of this run (without counting the reversal day last Friday) all right into a holiday. From here on out we just drift.
Markets are closed tomorrow in the States in observance of Thanksgiving day and are open a half a day on Friday.
IF we do anything on Friday's abbreviated session it would be all per our game plan of getting rid of long exposure and starting to NIBBLE (think be there trades) on the short side in issues that have that look.
Odds also favor it will be near the open IF we do anything at all. Also odds favor a shortened mid-day update if at all. As far as resistance levels go?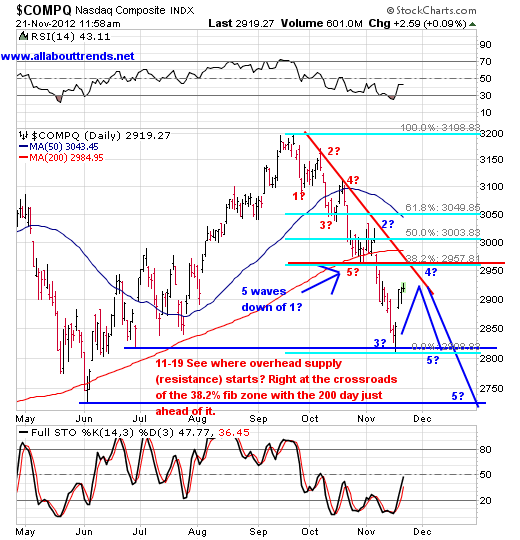 As far as all the talk about WAS that the bottom? We don't know and nobody else does either. What we do know is that so far it WAS a falling knife low and that is that. See any bottoming pattern? See how all we've done is bounce up off the lows within an overall downtrend?
Enough said for now – have a SAFE Holiday!
Game plan for the week
For us the game plan is to play the bounce, get rid of a lot of our longs and re-position on the short side via individual issues and even some Inverse Index ETFs.
The following is a snippet from today's premium update from All About Trends. Subscribers receive daily commentary and a weekend wrap-up. Experience our accurate market analysis, trading methodology, and stock selection to raise your equity curve for only $20 for the first two months. That is an incredible deal, but before you spend money, give our free newsletter a try to see what we're all about and grab a free report as well. 
Leave a Reply
You must be logged in to post a comment.