By Poly
This is an excerpt from this weeks premium update from the The Financial Tap, which is dedicated to helping people learn to grow into successful investors by providing cycle research on multiple markets delivered twice weekly. Now offering monthly & quarterly subscriptions with 30 day refund. Promo code ZEN saves 10%.
Considering the markets move on Friday, an extra post was warranted.  I guess the bearish technical indicators and Left Translated Cycle was in the end more than enough warning that the markets were in trouble.   Personally, I did not expect this level of breakdown, but then that's why I never hold positions or views in such absolute terms, we must have flexibility to allow being wrong.  There is no way to sugar coat this development, a clear and decisive Daily Cycle Failure. If my ICL marking is correct, which I strongly favor, then we're working on an IC failure and therefore possibly a much larger degree market top.
This sell-off occurred on Day 32, technically a little early, so it suggests more downside. The fear is that big declining markets do fall on oversold and bearish indicators, so there is absolutely no reason to be going "bottom fishing" now, this just needs to play out.  We've also seen a fair number of Daily Cycles end early in the count, on big sell-offs, so this decline could be deep enough to support a DCL too.  In both scenarios however, the trend appears to have changed and the markets are now going to need something very special (FED?) to break out of a failed Cycle.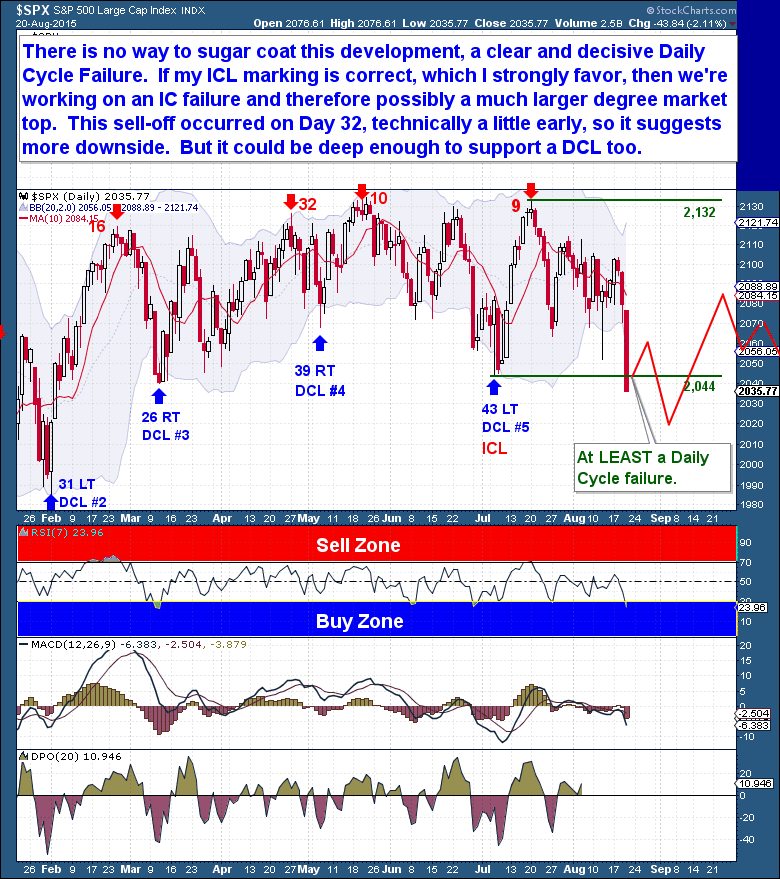 Leave a Reply
You must be logged in to post a comment.