By All About Trends  
I also wanted to alert you to a price increase for the service All About Trends that is currently offered on zentrader at a 50% discount. As of July fourth the price is going up, so if you've been on the fence about their service now is the time to lock in this low rate.  For their trade ideas, accuracy, and market views they provide, you can't beat the value.
Now take a look at where the indexes are before you cave in on your short positions IF you have them. The last few days we've been saying: Could it B? As in the B Wave Sure looks like a bunch of B's.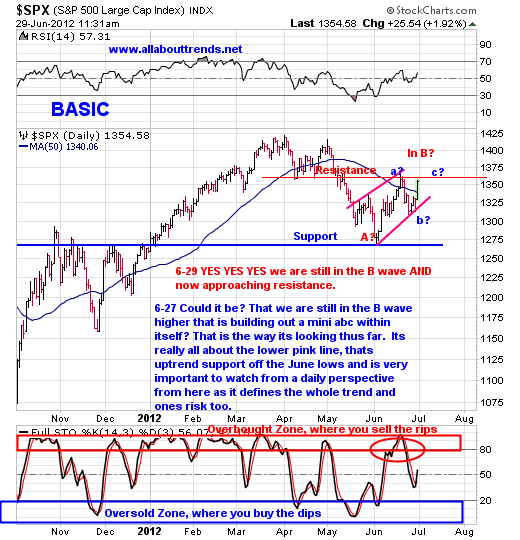 Now for a zoomed in view via the 60-minute time frequencies. 
Watch the red line resistance (Blue A) zone which when all said and done COULD end up being a Double Top and of course an ABC up of the Red B wave.  We'll touch upon what would happen after that should we continue to follow the script the market currently is following this weekend. 
Bottom line is resistance isn't all that far away.
Dow daily looks to be very close to resistance. RSI 60 could be another line in the sand to watch.
The following is an excerpt from today's mid-day premium update by All About Trends.  Members receive daily market commentary, weekend wrap-up, and a concise trading plan. I personally recommend their service for their insightful content, trading methodology, and value. Try it here at a significant discount.
Leave a Reply
You must be logged in to post a comment.