By Poly
The Equities markets continue to operate in a vacuum, nothing appears to concern these markets.  The level of complacency and the lack of fear are astounding; any threat to the market is quickly discounted or ignored.  But the lack of retail participation and generally below average sentiment suggests that this is not necessarily a speculative market.   Equities are being driven by the market makers and high frequency traders, and this is evident from the near mechanical nature of this advance.
Take a look at the below Daily chart, its near perfect form suggests that "bots" rule this market, "the tape has been painted".  It's not like the backdrop or fundamentals for the equity market warrant such a fearless rally.  Most of the world economies are in recession while in the US we have a mixed bag of weak to flat announcements.  Valuations are historically rich and pricing in robust growth, but of the companies issuing early earnings guidance, 80% of them have been negative (88 out of 110).
However fearless the markets are, they are now on borrowed time.  The Daily Cycle is on Day 33 and well above its 10 and 20 dma, so the odds greatly favor that this Cycle is about to top and begin the decline into a DCL.  Of course there are instances of Cycles running into the 40 plus day count before topping, but they are fairly rare.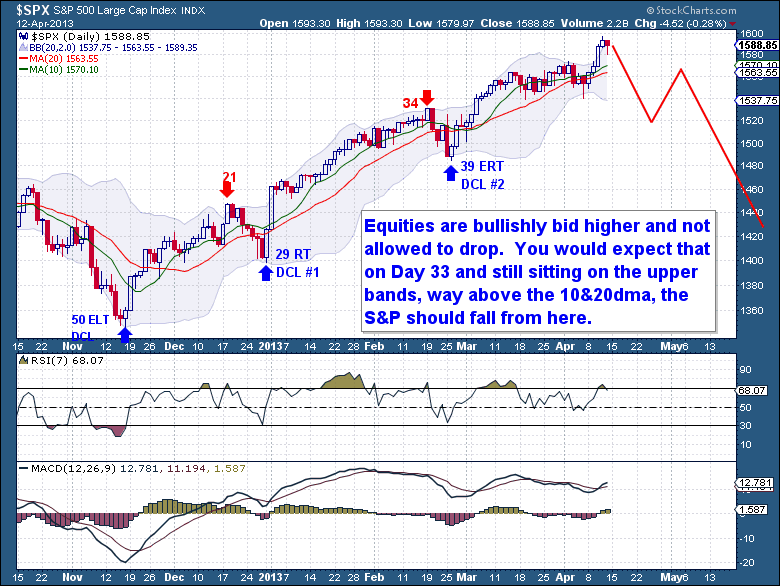 Looking further out towards the Investor Cycle and it's a similar story.  The below chart (courtesy Bespoke Investment Group) shows just how far and extended this market has gone.  This move is now more than 2 standard deviations above its 50 day moving average.  Whenever these peaks occur deep in the Investor Cycle, they very often signal that the Cycle has topped.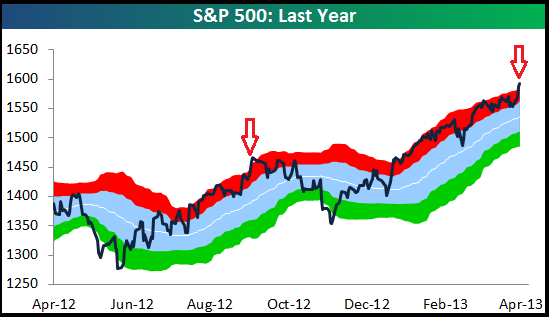 This Cycle has added 25% and is still making new highs in week 21.  The rally has obviously been very impressive and places it into the top 10% of best performing Investor Cycles.  But all great things must also come to an end eventually.  There are just so few Cycles that have the ability to continue powering these types of moves beyond the 20 week mark.  Because we're deep in the timing band for a Daily Cycle Top, the expectation is that the Daily Cycle will turn lower at any moment.
This as is an excerpt from the weekend's premium update  from the The Financial Tap, which is dedicated to helping people learn to grow into successful investors by providing cycle research on multiple markets delivered twice weekly, as well as real time trade alerts to profit from market inefficiencies.
They offer a FREE 15-day trial where you'll receive complete access to the entire site. Coupon code (ZEN) saves you 15%.
Related Posts:
Negative Divergences Setting Up S&P
Gold Volatility Index Back To Bull Market Lows
US Dollar Continues To Find A Bid
Leave a Reply
You must be logged in to post a comment.