By Harlan Pyan
The following is an excerpt from the Sunday premium update at All About Trends. Enjoy a free 15 day trial to their premium service and receive daily stock picks, market analysis, and a complete trading plan. Promo code: zen
Friday was a rare day in the markets where we didn't see more of the new norm of straight up for days on end without much digestion of gains when viewing a daily time frequency chart.
Here we are in the 22nd day of the month and we've only had two down days!! Think about that, since the first of the month the SPX has tacked on some 100 points and the NASDAQ  has added 200 points. This has to be relieved at some point.
And as we said before, the digestion of these gains will either be sideways via time or down via price.
To not expect some sort of give back would be living the equivalent of having not only your head in the clouds but your feet as well. How many times have we talked about being emotionally centered around here? Everyone remember the phrase we touch upon every now and then which is?
"It's ok to have your head in the clouds as long as your feet are firmly planted"
All of which leads us to? Pullback time, which is healthy by the way. How much? Well that's another story, we don't know and neither does anyone else. But much like the last two pullbacks this leads us to two potential scenarios as we go into next week.
One being a normal pullback to supports as laid out in blue with a tag of them then we are on our way again.
Or we are on the verge of a deeper pullback than just a pullback and on our way again. In that case, we come down to supports bounce and comeback down again for a deeper pullback. Think ABC down just like the May through June and Aug through beginning of September.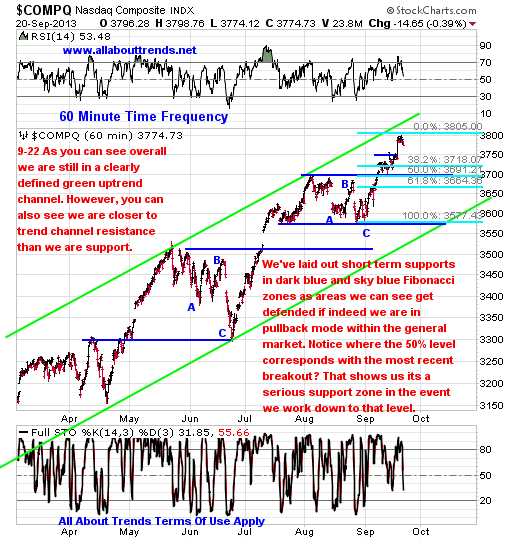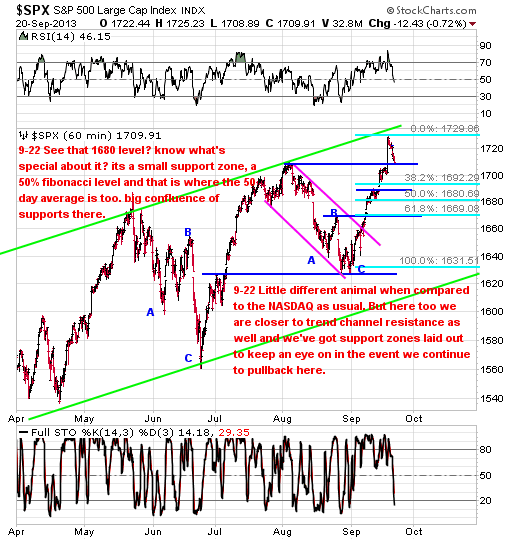 What we do know is where supports are and key Fibonacci ratios are where the indexes and individual stocks can get defended just like the last time we pulled back in the markets that set up a lot of great trades.
Leave a Reply
You must be logged in to post a comment.