By Poly

This is an excerpt from Wednesday's  premium update  from the The Financial Tap, which is dedicated to helping people learn to grow into successful investors by providing cycle research on multiple markets delivered twice weekly. Now offering monthly/quarterly ways to subscribe complete with 30 day refund.
Ordinarily you would expect a federal government shutdown to have much more of an impact on the markets.  Despite this being the 2nd day of the shutdown, markets appear to be taking it in stride.  With little progress made towards a resolution today, the early trading was indicating that the day was likely to end poorly for the markets.  But by the afternoon session, buyers came back into the market, and the reversal only served to reinforce the notion that dips will be continuously bought.
But in my opinion, this buying is just energy coming from the recent Half Cycle Low.  That 8 day and 55 point decline has created enough counter trend momentum where an upside move and partial retracement of that decline will not be stopped.  No matter how bearish the news from the hill is, the equity Cycle is destined to move back above 1,700 by early next week.  That will set the scene for a failed attempt at new highs, leaving the Daily Cycle Left Translated (Top on Day 15).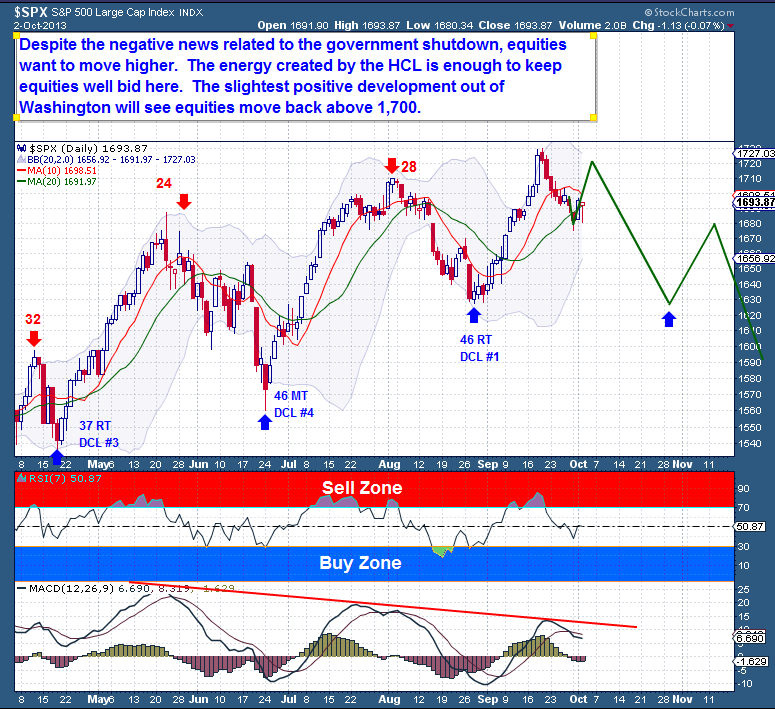 Related Posts:
Gold Bears Are Gaining Confidence
S&P In Timing Band For Half Cycle Top
Equities Appear To Have Put In A ST-Bottom
Leave a Reply
You must be logged in to post a comment.