By All About Trends
As far as the indexes are concerned we don't like them here as we said yesterday, not to mention overbought and getting more overbought by the day when viewing the daily and 60 minute charts. BUT the super short term micro 15 minute charts are in play currently. Right now this IS the short term trend — a day traders and scalpers dream. As long at that trend continues that is.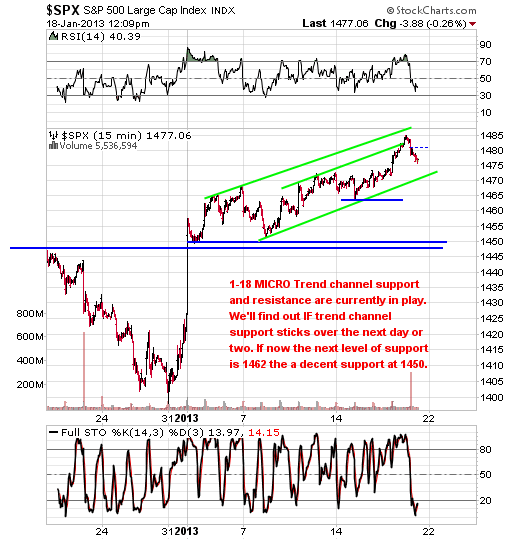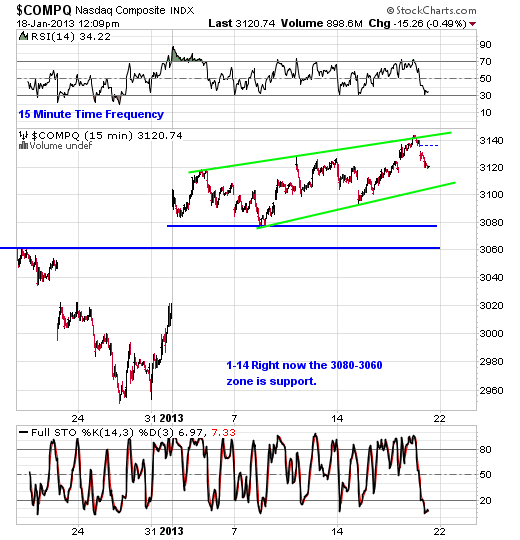 60-minute Time Frequency Charts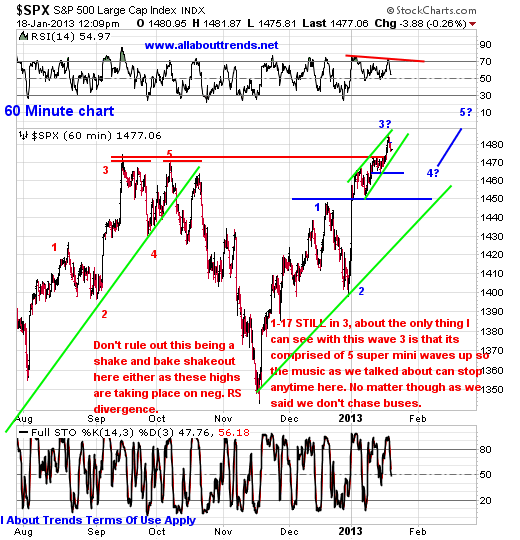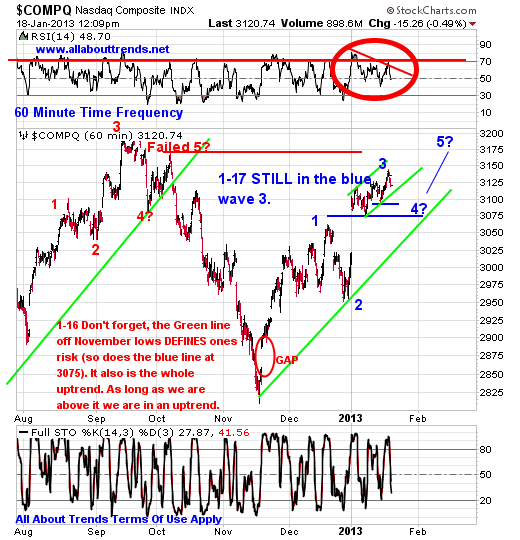 In our game plan section below, yesterday we said:
Since the cliff deal it's been sideways to a slow grind higher.
If you are wondering why since then you've been having a hard time making any serious headway you are not alone. On the surface it all looks great index wise however there is a lot of sloppy and choppiness going on with individual issues. Sure headway can be made and is being made but its fits and fancies where names pop and then fizzle out in the short term, just look at BWLD and PXD yesterday.
Those names though making continued headway have been extended and continue to be more extended , anyone see GS and DDD?.
Not our cup of tea per se when it comes to managing risk via low risk trade set ups due to the music can stop at any time.
But for right now the 15 minute charts are where the SHORT TERM index action currently is. Watch those green uptrend channel lines. That said baring an unforeseen? next stop? trend channel support then we see if this short term trend continues. If not there are multiple support levels along the way for buy the dips and sell the rips buyers.
The following is a brief excerpt from the from Friday's mid day update from All About Trends. Subscribers receive daily commentary and a weekend wrap-up. Experience our accurate market analysis, trading methodology, and stock selection to raise your equity curve for only $20 for the first two months.
Or try our free newsletter to learn more about All About Trends:
Leave a Reply
You must be logged in to post a comment.