By Poly
The Equity markets were not too impressed with QE4, the initial rally fizzled and its been a couple of losing sessions since.  I think there are multiple reasons for this.
There is plenty of liquidity already sloshing around the markets; QE4 is no longer a game changer.
Valuations are not attractive at the 1,400 when earnings are clearly slowing.  The risk premium has changed.
Equities were already short term overbought and the Cycle was set to move into a Half Cycle Low.
Fiscal Cliff concerns and potential tax increases have not been enough to induce any broad based selling since the ICL.  At this point this remains a controlled sell-off into the Half Cycle Low which will likely be bought aggressively later in the coming week.  I'm positive that some form of compromise in "fiscal cliff" discussions will "miraculously materialize" and the media will find its reason to explain the Cycle's "normal" 2nd half performance.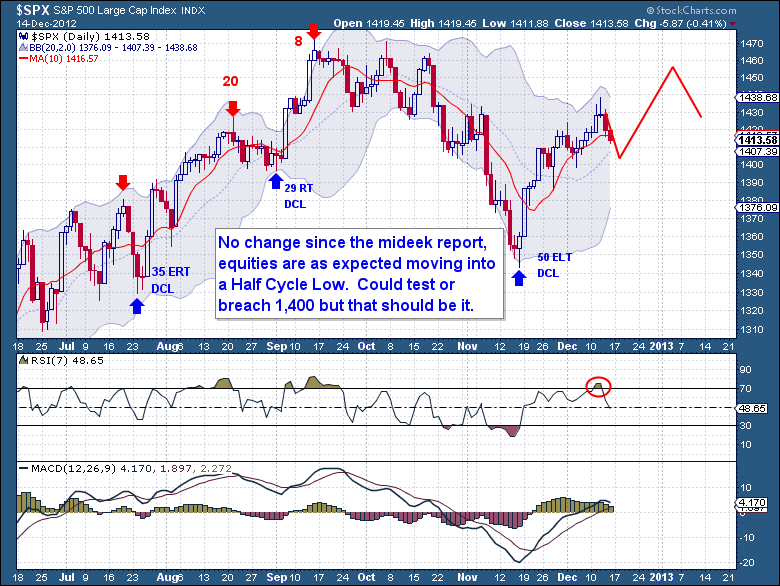 I remain confident, even with QE4 now implemented, that Equities have either topped or will form one final new top in the coming 2-6 weeks. It's still premature to be worrying about a significant collapse in my opinion as the Cycle still remains young and technically in a bullish state.  Once the New Year rolls around and the poor earnings begin to flood in, it is at that time that final realization of an impending deep recession begins to take hold of the market.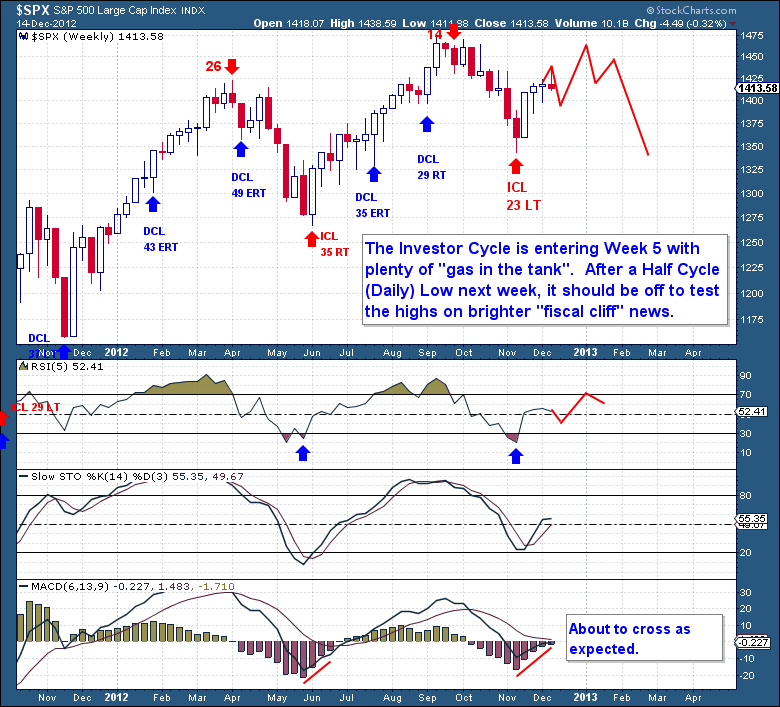 At this point I do not wish to predict a price point for a top in the markets.  Picking tops with Cycles only works when the Cycle is in the latter part of the timing bands and the technical indicators reach the overbought levels.  In this case I do not expect a Right Translated Cycle so therefore we should not see a late Cycle high with overbought occilators which could help call a top in real-time.
Trading Strategy – Equities (S&P500)
Apple was slaughtered again today and it's a lesson in honoring stops.  More often than not (75%) a stop will save you from further losses because if a stop is hit, something is generally wrong with the asset you were trading.
At the top of the next Daily Cycle, I will be initiating some significant changes within the Long Wealth Portfolio in preparation for the 4 Year Cycle decline.  The reason why I am not doing it now is because there is the potential for a significant blow-off like top to occur in the next 8 weeks.  I will be cutting the positions in materials and energy (both poor recession plays), and some PM Miners.  Both will make way for some additional short equities positions.  These will be balanced by long China and India positions as we play for the spread between the two.  If the call for a 4 Year Cycle and recession are incorrect, then China will significantly rally from deeply over-sold levels.
This as is an excerpt from the premium weekend update from the The Financial Tap, which is dedicated to helping people learn to grow into successful investors by providing cycle research on multiple markets delivered twice weekly, as well as real time trade alerts to profit from market inefficiencies. They offer a FREE 15-day trial where you'll receive complete access to the entire site. Coupon code (ZEN) saves you 15%.
Related Posts:
US Dollar Could Be Nearing Endgame
VIX Is Displaying Troubling Behavior
2 Responses to "Markets Slip Into Half Cycle Low On QE News"
Leave a Reply
You must be logged in to post a comment.