By Poly
This is an excerpt from this weekends premium update from the The Financial Tap, which is dedicated to helping people learn to grow into successful investors by providing cycle research on multiple markets delivered twice weekly. Now offering monthly & quarterly subscriptions with 30 day refund. Promo code ZEN saves 10%.
Cycle Counts
| | | | | | |
| --- | --- | --- | --- | --- | --- |
| Cycle | Count | Observation | Probable Outlook | Cycle Clarity | Trend |
| Daily | Day 9 | Range 24-28 Days – 2nd  Daily Cycle | Bullish | Green | Flat |
| Investor | Week 7 | Range 22-26 Weeks | Bullish |    Green | Failed |
| 4Yr | Month 40 | Range 48-52 Months | Bearish | Green | Failed |
This is a time to stay patient members, certainly not to be pushing sizable bets in either direction. I know many of you are hungry for this sector to burst out of a bear market low, but trust me, being under exposed to a rally is well worth it to avoid being caught leveraged and committed if the sector turns lower once more. We cannot ignore the bear market's ability to draw in forgiving bulls, before inflicting serious and lasting pain. I am not trying to scare anyone, I just want to remind you of how markets work and how this sector has traded for four straight years.
That said however, I still see reasons to be optimistic in the shorter term. The gold chart looks perfectly fine to me and is tracking a course I defined  over a week ago. So this 4-day pullback was exactly how I expected this Cycle to unfold after that initial surge, and it continues to follow a typical Cycles "give and take" path as it moves higher. With today's drop below the 10dma, which ended in a bullish reversal to close on a positive note, we now have the setup for a new leg higher. Remember, do not get married to a position, if gold closes below $1,076 from this point I would consider that a very negative development.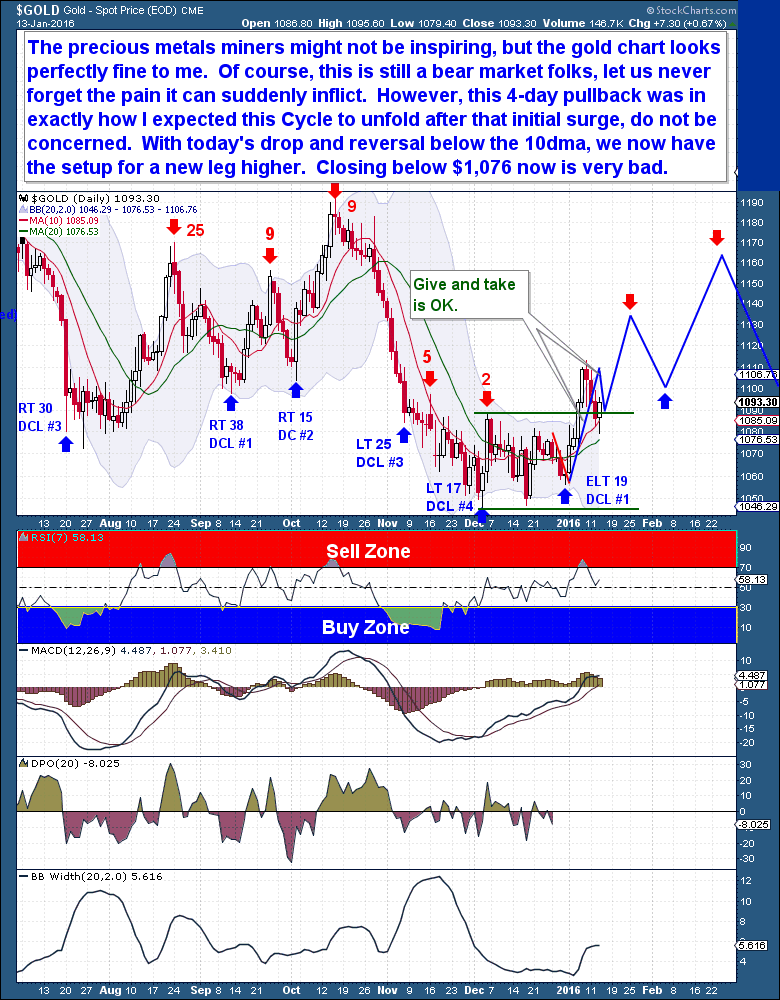 Leave a Reply
You must be logged in to post a comment.