By Fun Money
As our stock newsletter pointed out, the indexes finally gave us a constructive day Friday. And our two current positions are acting well with opportunities for us to do more (see our watch list below) as the market may give us a well needed bounce via a holiday week.
It sets up a nice profit-yielding game plan for us which is to use a bounce in the indexes this week to profit from a bull call spread in AAPL (see our watch list) and lock in gains on NOW and BIIB. We'll then look look to buy puts in the stocks on our watch list should they trade up to resistance.
Trade Idea For The Week. BIIB (We own 1 December 135 call at $7.10 — bid price as of Friday's close: $8.20)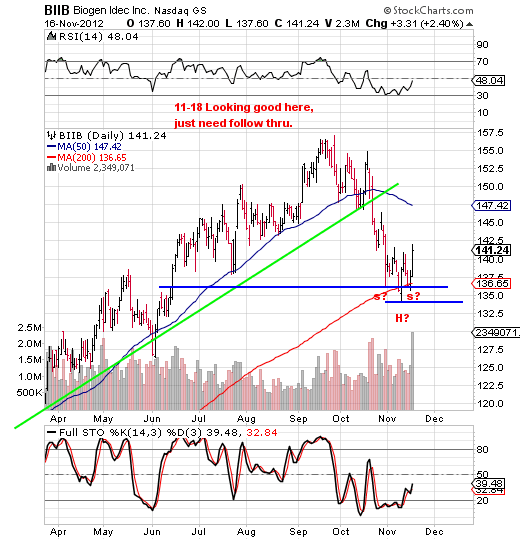 After churning around at support BIIB turned in a nice day Friday with impressive volume! From here it's all about follow through up to the 50-day where we'll look to lock in our gains.
With SINA — we needed a bounce on earnings into the $55-$59 range. Instead it went the other way, closing just over $45. Since we bought a ratio bull call spread, all of our calls expired worthless so we washed on the trade.
Remember, there can only be one of three outcomes when placing an options trade:
1. You make a gain
2. You wash on the trade
3. You lose part or all of your initial investment
By executing a ratio bull call spread, we eliminated option #3 and settled for a wash. This is why going forward, we are going to present spread opportunities vs. straight puts or calls when appropriate.
The following is an excerpt from this weekends premium update from Fun Money. Subscribers receive structured option trade ideas with trade alerts so you know exactly what to do and I'm pleased to announce that Chris Ebert has recently joined the team as he brings a wealth of information regarding options trading.
Leave a Reply
You must be logged in to post a comment.