By All About Trends
"As we go through the charts of the daily indexes and individual names we see a lot of POL's (Pullbacks Off Lows). In downtrending markets POLs are the only pattern you need to know for shorting. Those POLs are also the what to watch out for if you are long."
When It Rains It Pours
Check out all the names that are on the short sell list and our current short holdings and you'll see. Everyone of the POLs broke down from the only pattern you'll ever need to know in downtrending markets and that is the Pullback Off Lows (POL) short sell pattern.
We've talked numerous times about advanced technical analysis things around here as in Elliott Wave's IE ABC's and sure enough the market has followed that script to a T. We're not trying to toot our horn here as much as we are trying to increase ones knowledge hence "Knowledge Is Power When Used Effectively". Don't forget that please.
We've touched upon ABC's (3 waves) BUT in order to complete a full sequence it's really got to be of the 5 waves down order hence ABCDE. And that is what we currently have the look of. For those not into the advanced charting jargon? That D wave as shown is the bear channel, the snapback rally, dead cat bounce call it whatever you want. See how both of those theories and methodologies go together?
That all said from a daily chart perspective let's take a look at the advanced index charts today.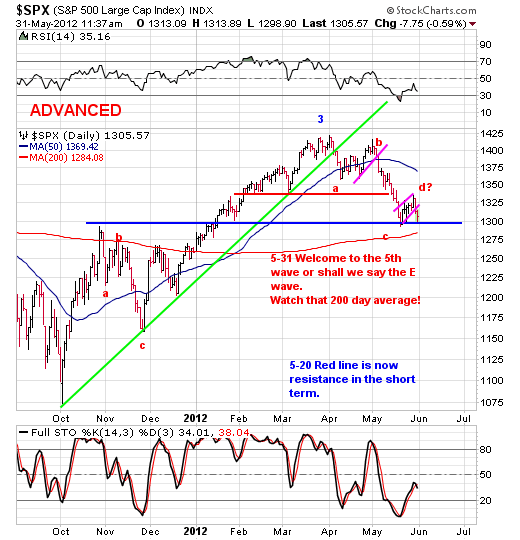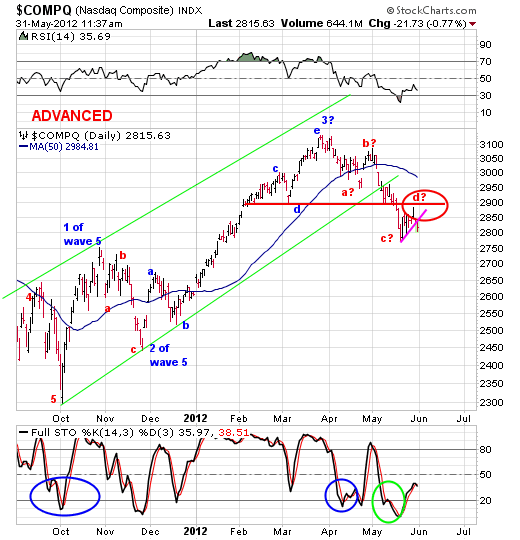 Now? A few scenario's to ponder and we stress ponder. These are the bearish scenarios which is the trend right now.
1. We retest the lows of May and stabilize and that's as far as we go baring an undercut
2. We head for the 200 day average (SPX) and stabilize and that's as far as we go
3. We finally end this correction in a classic take Nervous Nellie (who used to be Greedy Gus at the highs) to the cleaners in classic CAPITULATION FORM. At this point it's almost as if we won't get any lasting rally in the markets till the deck gets cleared (GO DECK!) . The longer we go without any lasting rally higher (strength, lasting strength) the greater the odds this occurs.
By the same token keep in mind that lows are made on bad news events. Which is the opposite of highs being made on glowing news events (think darkest before the dawn and the sun is brightest at its peak.
From a Bullish Scenario we stabilize as mentioned in 1 and 2 above and go rangebound here with support and resistance clearly defined all the while base building occurs in many names out there.
Let's face it we've got a lot of Macro issues coming to the forefront. AND a newer theme potentially emerging too and that is:
The following has been an excerpt from today's premium update by All About Trends.  Premium members receive daily market commentary and stock picks, a weekend wrap-up, and a concise trading plan. I personally recommend their service for their insightful content, trading methodology, and value. Try it here at a significant discount.
Related Posts:
Markets Are Attempting To Put In A Bottom
Portfolio Size and Risk Management
Leave a Reply
You must be logged in to post a comment.