By @tradepoly
A significantly ugly day across all Equity markets with the type of declines normally reserved for panic days towards the tail-end of a Cycle.  Besides a few sectors than managed to resist the drop, (Silver miners, Oil Exploration and Bond Fund ETF's) it was a brutal -2%+ day across all the indices.
Declining issues and declining volume exceeded the 90% mark, a fairly rare event that is normally seen only towards the final capitulation drops into Investor Cycle Lows.  More often than not a bounce follows a 90% down day, only to be met with one more final 90% panic (down) day that marks the end of a Cycle.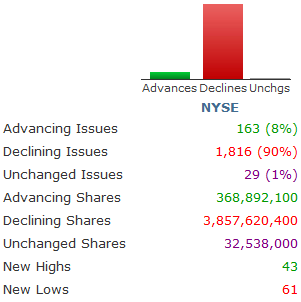 The magnitude of this drop probably took most by surprise, considering the idea that an Obama victory was supposedly going to be good for stocks (more FED liquidity).  To Cycle enthusiasts this day was far from unexpected as I've been warning for weeks now that I expected the Cycle to eventually collapse and move below 1,397.  This level was a very important Cycle point as it marks the last Daily Cycle Low; in effect dropping below today signaled a Cycle failure.
But the fear in Equities is again simply a naturally reoccurring move down towards an Investor Cycle Low, a 2-3 times per year event found in all Cycles we follow.  How much further Equities have to drop is difficult to tell, but we do know that the Daily Cycle length suggests it should end within the next 3-7days, most likely with one more final panic day like today.  Technically Equities are borderline oversold, but still not at those levels where an Investor Cycle Low is typically seen.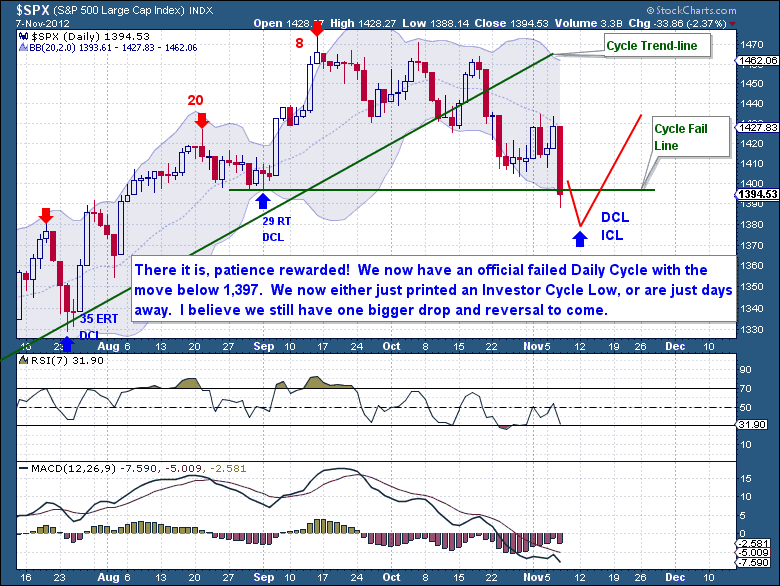 In most cases the first big drop into a seemingly Cycle Low is not the eventual final low.  We often see a trap form followed by a sharp drop into a Cycle Low.  This final drop does not necessarily need to break to new lows, although it more often will.  In this particular case, I'm expecting to see another 1-3 day drop starting in the next few days that will mark the eventual Investor Cycle Low.
This as is an excerpt from the mid-week update from the The Financial Tap, which is dedicated to helping people learn to grow into successful investors by providing cycle research on multiple markets delivered twice weekly, as well as real time trade alerts to profit from market inefficiencies. They offer a FREE 15-day trial where you'll receive complete access to the entire site. Coupon code (ZEN) saves you 15%.
Leave a Reply
You must be logged in to post a comment.