The following is an excerpt from the this weekend's update by All About Trends. Premium members receive daily market commentary and stock picks, a weekend wrap-up, and a concise trading plan. I personally recommend their service for their insightful content and amazing value. Try it here at a significant discount.
Given how far and how fast we've just moved all in blink your eye form we don't need to tell you a pause or pullback would be refreshing here if we are going higher to work off this vertical move over the last few days.
In doing so it sets up a launch pad for higher prices IF we are going to retest the highs of 2012 and possibly beyond. The jury is still out on a retest but given how close we are those highs could easily act as a magnet over time.   
So going into next week we either make a beeline (Think AAPL and look at AAPL's micro chart below) for those highs or we get the digestion.  Either way we see pullbacks and digestion of gains? We want to hone in on those names and use that weakness should we see it to pick up names with chart pattern structure.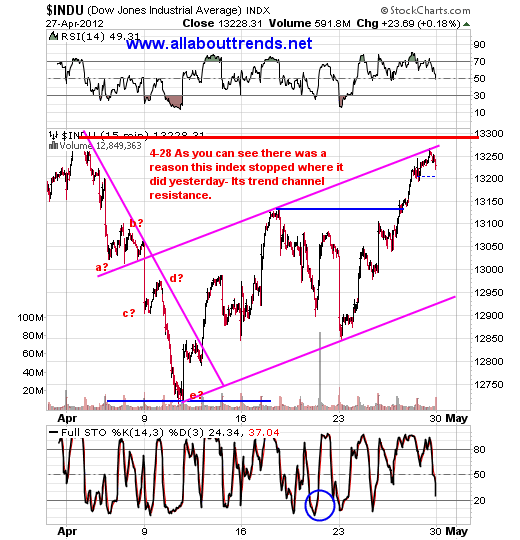 As you can see in these 15 minute time frequency charts that of the above indexes have some micro support at the blue lines should we be able to gets some pullback action that COULD act as a floor for a few days. Below is the NEW NASDAQ index chart  (Yes we are being sarcastic when we say new Nasdaq) which as you can see can go at any time. Its all about the little pink bull channel.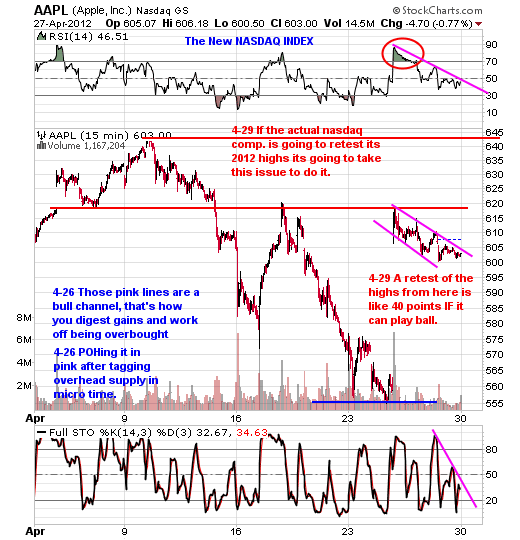 One Response to "Retest Of Recent Highs Coming?"

Leave a Reply
You must be logged in to post a comment.