By Harlan Pyan
The following is an excerpt from today's premium report by All About Trends. Enjoy a free 15 day trial to their service and receive daily stock picks, market analysis, and a complete trading plan. Promo code: zen
That is the question of the day here with regards to the SPX. You see folks the closer we get to that red line in the chart below the more it can act as a magnet. In the coming day's that's what we'll want to be on the lookout for. In the meantime this 61.8% Fibonacci zone is acting as a resistance zone.
Currently, we are short term overbought and in need of some digestion of gains here. IF that is going to be the case then either sideways or down will relieve the overbought conditions. The chart below gives us a birds eye view of short term supports in the event that this digestion of gains is going to be of an pullback variety.
As for the NASDAQ Comp.? It has that hovering look as shown below.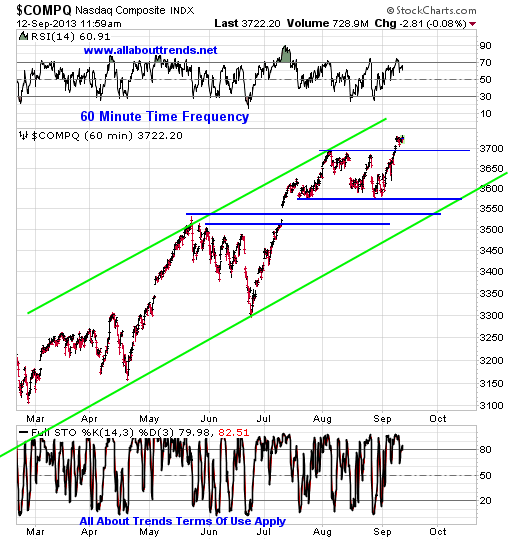 BUT when we zoom in to get a better view we see this index in the process of what looks like a sideways digestion of gains to work off overbought conditions.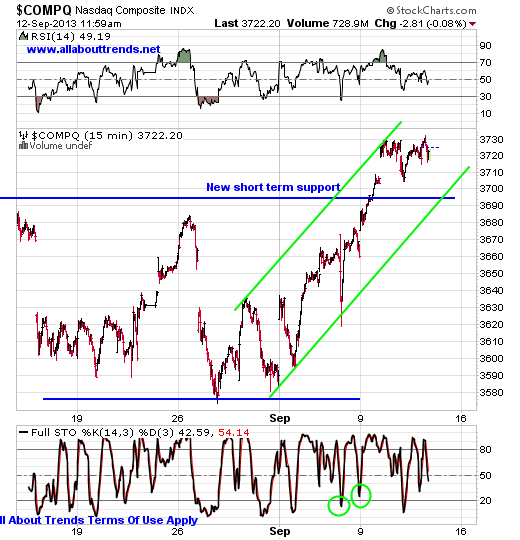 Game Plan For The Week
We have a great month going here and month to date are currently looking at gains of $4,561 with still having 2 1/2 weeks till the end of the month to go.
Yesterday we said:
"This means we have time to let the good trades develop over the next few days so lets let them develop long and short and take our time and catch our breath after a nice pop off of support."
We have a few names being added to the long side watch list today so make sure you check them out.
Related Posts:
Holiday Trading Likely More Chopfest
Markets Approaching Key Support
Leave a Reply
You must be logged in to post a comment.