By All About Trends
For today the only two charts you need to know are shown below.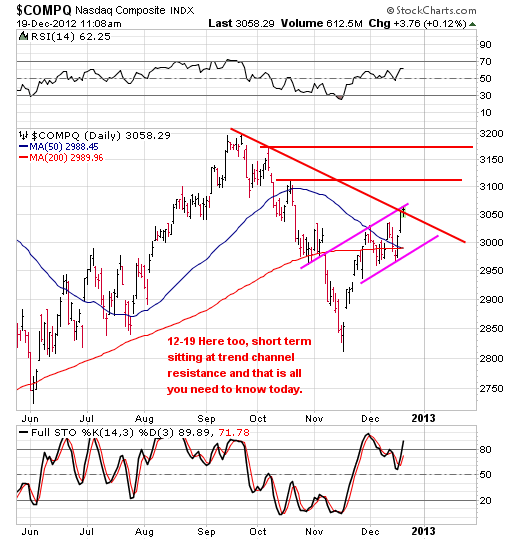 See how far and how fast we've gone from trend channel support to resistance here? In micro time it's bus chasing mode currently all in "Don't Blink" form.
What if we are going to retest the 2012 highs on the indexes? It's still a brick wall folks. That's the best case we see from a bullish perspective. The S&P 500, Dow and Russell 2000 charts aren't that far away which means upside is limited here.
Now another thing we want to bring up in advance is that of a big IF and that is IF we were to break out into new highs in the indexes you all know what to be on the look out for IF that were to occur right? We'll give you a hint.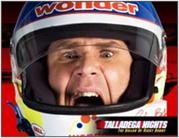 For now though we are short term stretched and in need of some digestion of gains here.
OK, WE'LL BITE
Since yesterday we've heard a lot of chatter with a lot of talking heads are starting to say and that's things aren't that bad out there and we could really get up an go once the cliff is no longer hanging over our heads.
Amazing how they start to say that now AFTER we just took off in "Don't Blink" form two days ago and even AFTER we've ran big time off the November lows (Think NOW? you guys are bullish? AFTER the S&P 500 put on 100 points? Gimme a break).
A question that comes to mind is that of are they REACTING based upon what's already happened? Who knows but we do know we see this all the time AFTER we made a move up or down. Let's just stick with what works folks and that is the charts.
But let's play along with the chatter for a moment in the form of Ok, we'll bite so what are we buying.
And THAT is the problem here!
We looked at tons of charts last night and we cant find really too much of anything that excites us. Sure bring on an ORDERLY pullback and we can talk.
The following is from today's mid day premium update from All About Trends. Subscribers receive daily commentary and a weekend wrap-up. Experience our accurate market analysis, trading methodology, and stock selection to raise your equity curve for only $20 for the first two months. If you want to wait and see and give our free newsletter a try to see what we're all about and grab a free report here. 
One Response to "Sell The News Could Be Coming"

Leave a Reply
You must be logged in to post a comment.