By Poly
The Dollar has recovered and recharged from the recent selling pressure and is again poised to continue its Cycle decline.  Because the 3rd Daily Cycle has progressed to Day 16, we should expect to see only 4 to 8 days of sharper declines into an eventual Daily Cycle Low.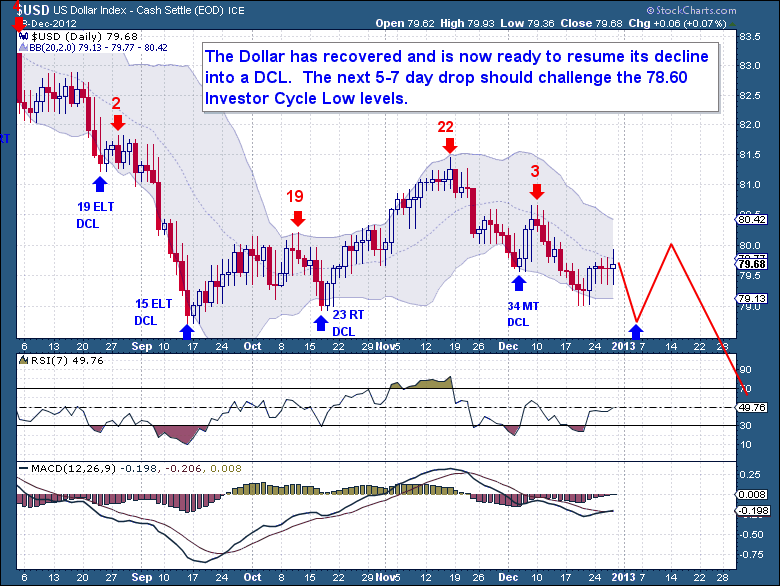 The important level to watch out for with the coming DCL is the 78.60 line.  This has marked the last two major Investor Cycle lows and the Dollar has defended this area (see chart below) a number of times already.  Once this area is taken out then the Dollar 3 Year Cycle would have officially topped and the longer term momentum should shift firmly to the bearish side.  This would allow the coming Investor Cycles to form in Left Translated Cycles which will serve to accelerate the declines.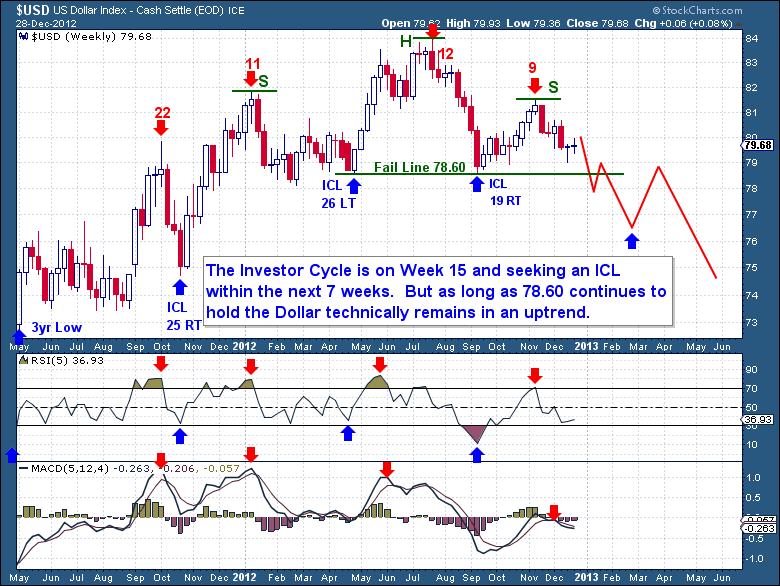 From a pure Cycles perspective it looks like 2013 will be a picture perfect 2 or 3 declining Investor Cycles event.  The 3 Year Cycle should be in decline with the next major Dollar low not due until 2014.
From a macro-economic standpoint I see a world economy contracting and rapidly deleveraging.  With an elevated possibility of additional financial shocks or calamities, the coming year should be bullish for the Dollar.  If the Dollar is going to surprise us in 2013, then we should expect this line (78.60) to hold or only marginally break before we see yet another surprise rally begin to unfold.
This as is an excerpt from this weekend's premium update published on Sunday focusing on US Dollar from the The Financial Tap, which is dedicated to helping people learn to grow into successful investors by providing cycle research on multiple markets delivered twice weekly, as well as real time trade alerts to profit from market inefficiencies.
They offer a FREE 15-day trial where you'll receive complete access to the entire site. Coupon code (ZEN) saves you 15%.
Related Posts:
Slowing World Economy Will Make 2013 Rough
Desperately Seeking A Gold DSL-Daily Cycle Low
Markets Slip Into Half Cycle Low On QE News
2 Responses to "Sharp Declines For US Dollar Coming"
Leave a Reply
You must be logged in to post a comment.