By All About Trends
Or shall we say the "What To Look Forward To!"
12-2 Per the index action at the beginning of this newsletter. If the markets do break down and retest the lows of November it ought to drag everything with it. Here is just one of the many names on our short side watch list we're watching if we do start to sell off next week.
The key words here for next week are: DECISIVE and WITH CONVICTION. How will we know? Name after name on this list below will break channels to the downside (decisively and with conviction) and won't look back. Again don't bet the farm on this, just BE AWARE (notice we said be aware not beware? That's to keep you from getting scared or excited depending upon your mindset). As usual we'll take it a step at a time around here.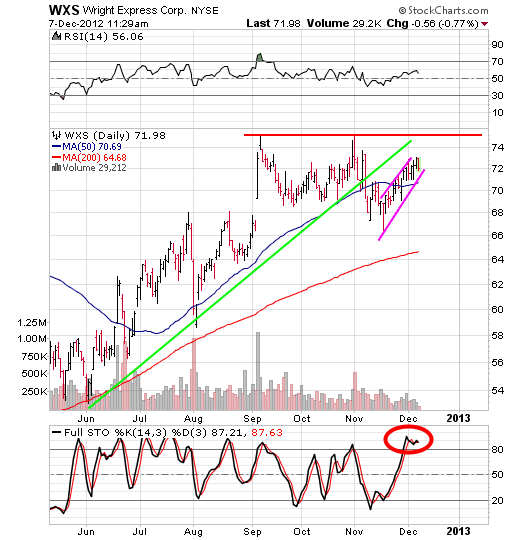 The following is from Friday's mid day premium update from All About Trends. Subscribers receive daily commentary and a weekend wrap-up. Experience our accurate market analysis, trading methodology, and stock selection to raise your equity curve for only $20 for the first two months. That is an incredible deal, but before you spend money, give our free newsletter a try to see what we're all about and grab a free report here. 
3 Responses to "Short Side Coming Attraction"

Leave a Reply
You must be logged in to post a comment.