By Poly

This is an excerpt from this past weekend's  premium update  from the The Financial Tap, which is dedicated to helping people learn to grow into successful investors by providing cycle research on multiple markets delivered twice weekly. Subscribe now to receive real time updates. They now offer monthly and quarterly options to subscribe. 
Friday's gold close marked the first back to back losing sessions of this 17 day Cycle.  Until Thursday, we had enjoyed 12 of 15 winning days, adding a respectable 12.7% while price remained above the 10dma.  This is the type of sustained and powerful performance that I expected. Skeptics were never given a chance to get long or buy a dip.
So now the question is simply whether this Daily Cycle has topped.  Being that it returned well above the average for a Cycle within a reasonable amount of time, my inclination is that the Daily Cycle has topped.  Although I was looking for a Daily top in the 19-22 day area, the reality is that, from a price perspective, we've seen more than enough here to be content.
Forecasting is a tricky game, and there are no absolutes. It's a game of probabilities, and we attempt to skew the odds in our favor.  It's important to understand that, although from a Cycles standpoint we look to be in decline, until we see confirmation there is nothing stopping gold from putting in another leg higher.  For example a 16% gaining Cycle with a top on Day 22 would be perfectly acceptable based upon history, and that would equate to a move up to $1,470 in a little over a week.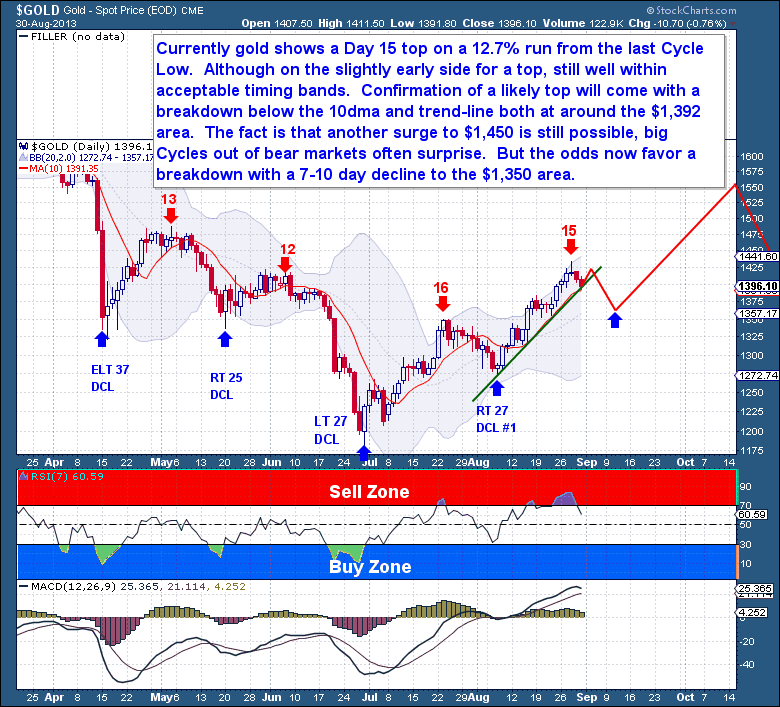 Confirmation of a likely top will come with a breakdown below the 10dma and the Daily Cycle trend-line, both of which currently sit at around $1,392.  To break and close below this level this late in the Cycle would certainly confirm a Cycle in decline.  In my opinion the turn in my tracking oscillators leads me to believe that we will drop below the trend-line next week. A "sucker" bounce back up would likely follow, but eventually a normal move towards a DCL will take hold.   Picking the depth of a Cycle Low is difficult to do, but a retracement no further back than $1,348 (the last Cycle high) would be my expectation.
For those who like to ignore the volatile daily movements of gold and focus on the Investor Cycle, little has changed.  The below chart was drawn 4 weeks ago at the start of the Daily Cycle and it still holds true today.  Although we likely topped at $1,434 (for this Daily Cycle) a week earlier than expected, price hit my initial target range of $1,420 to $1,450.  I had drawn a 7-10 day retracement back to the $1,350 area, expecting a standard retracement for a Right Translated Cycle in a bull market.
So there is nothing unusual here, only standard Cycles ebb and flow action that longer term investors should be comfortable with.  I still expect the next (3rd) DC to test $1,550 (maybe more), and that would be another $200 move from the upcoming DCL.  If you don't believe this is possible look to DC #1 and DC #2, and factor in that DC #3's are generally more powerful (and volatile).  As a FYI, 3rd DC's only take 15 days on average to find their top, but they still manage to average gains of 10%.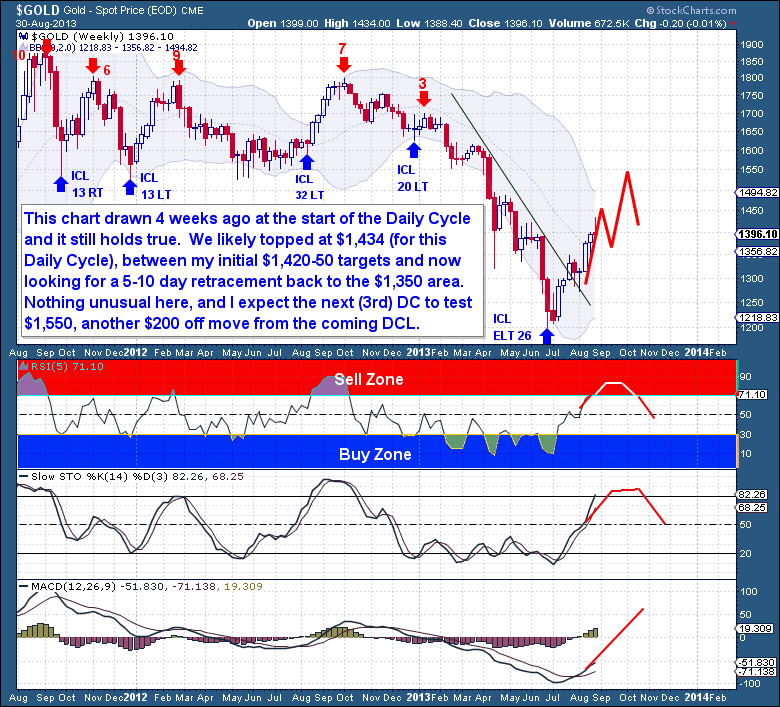 Leave a Reply
You must be logged in to post a comment.