By All About Trends
As of the time of this writing it appears that Spain will be getting the equivalent of the United State's version of TARP that we saw back in 2008-2009.
"The Euro group supports the efforts of the Spanish authorities to resolutely address the restructuring of its financial sector and it welcomes their intention to seek financial assistance from euro area Member States to this effect. The Euro group has been informed that the Spanish authorities will present a formal request shortly and is willing to respond favorable to such a request."
We highlighted the word appears because as you can see from the statement that in classic string one along Euro form there is no concrete wording that it's a done deal. So what does this all mean for the markets come Monday morning? Well if favorable then it's pop time to the red lines shown in the basic index charts and yes, at resistance levels with us being in overbought territory.
If unfavorable, here comes the blue lines (support for the time being) on those same index charts.
So what are we going to do about it? Well in the event of a pop (think a rip the face off of short sellers GAP open) we'll be at resistance and that's a sell the rips time which is also a consider short sell time. In the event of a drop? Well then we watch for stabilization at the blue support levels and lean towards buying the dip.
Overall if the markets end up going range bound over the next month? Great bring it on as its Wash, Rinse, Repeat all the while we get in get some points and get out long and short will be the mantra. This is the basic chartists game plan.
As you can see above, the bull count says we are on our way and this is the summer rally. However, lets not forget about Greek elections on the 17th of June. Don't worry about the outcome of that because folks its going to be all Greek to us anyway compliments of big government gone wild.
Bearish Count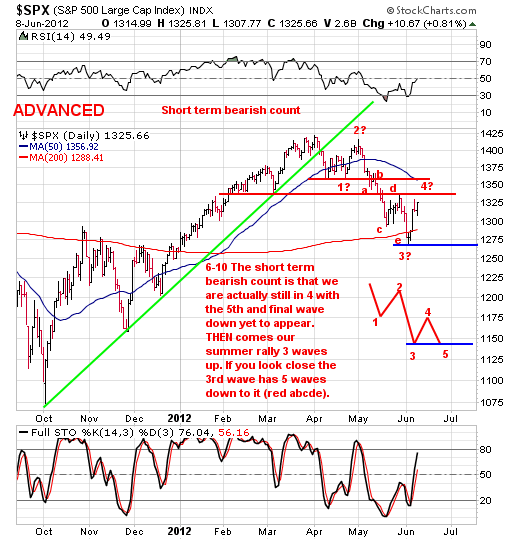 As for the bear count, you can also see that looks to be valid. It doesn't really matter which way it goes as its all about support and resistance (as laid out) and that is all you need to know when planning your trade. With a market potentially going range bound here its all about buy the dips (cover short sells) at supports and sell the rips (take on short exposure) at resistance.
The following has been an excerpt from this weekend's premium update by All About Trends.  Members receive daily market commentary and stock picks, a weekend wrap-up, and a concise trading plan. I personally recommend their service for their insightful content, trading methodology, and value. Try it here at a significant discount.
Related Posts:
The Only Pattern You'll Need In Downtrends
Markets Are Attempting To Put In A Bottom
One Response to "Spain gets TARPED?"
Leave a Reply
You must be logged in to post a comment.