We are all about investing in some great up-and-coming stocks at Zentrader. This is the first in a series where I'll highlight some great stocks that I feel are ready to break out based on either fundamentals, technical analysis, or both.
Today, we'll be looking at the rapidly growing health and wellness focused e-commerce company Conversion Labs (CVLB).
First Things First
As we have discussed over and over again, investing in individual stocks is not for everyone.  Make sure you are investing with money you can afford to lose if things go south. That being said, we all know that investing in individual stocks can be very lucrative if you pick the right ones.  There is no better way to beat the average market return than taking increased risk for the potential of improved returns!  Fortunes have been made in the stock market by taking small, calculated risks on fantastic companies!
Background on Conversion Labs – CVLB
Conversion Labs (CVLB) is an emerging leader in technology driven healthcare and telemedicine.  They apply their direct response marketing expertise to healthcare and provide a convenient, cost-effective and smarter way for consumers to access high quality OTC products and prescription medications.
Here are a couple quick facts about Conversion Labs:
CVLB is publicly traded on the OTCQB (middle tier over the counter "OTC" market)
Served over 850 million ad impressions over the past 2 years
Licensed for online Rx and physician consults in all 50 states
Ranked $164 on Deloitte's 2018 Technology Fast 500 with 608% growth!
The reason why investing in Conversion Labs is so exciting is they present an end-to-end telehealth customer acquisition model: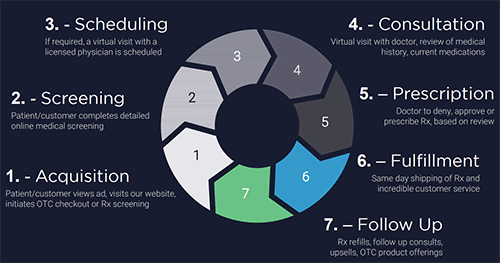 Conversion Labs – End-to-End telehealth customer acquisition modelWith the costs of healthcare rising due to an aging population and poor public policy, more and more customers are looking for cost effective solutions.  As folks shift more into the Health Savings Account (HSA) model through their employer offered healthcare, they are also looking for lower-cost options since they are paying out of pocket.  Today's customers are also less willing to wait in a doctor's office and are more trusting of technology and online services.
Did you know that in a recent survey, 77% of patients prefer a physician who offers telemedicine?  This must be the reason that the global online pharmacy market is expected to triple over the next five years (from $42B to $107B by 2025)!  Conversion Labs is poised to capture revenue from these potential new customers as we see these large global shifts in patient demographics.
Fundamental Analysis of Conversion Labs – CVLB
Exciting things are happening with Conversion Labs.  In June 2019, Conversion Labs entered the telemedicine space with a strategic join venture with GoGoMeds.com, a large online pharmacy.  They also just announced a formal launch of their first telemedicine brand, Rex MD.
Here are some fundamentals for you to review:
Has a $14 million revenue run-rate and growing
Showing 32% YoY revenue growth
Reached 93% revenue CAGR (2015 – 2019 est)
Approx 90 million shares outstanding (fully diluted)
Current valuation of just $6.86 million
Every round of money which Conversion Labs has raised in the last 18 months has been at $0.23/share – this is unheard!
52-week stock trading range: $0.10 – $0.29
You read that correctly – currently Conversion Labs is valued and less than $7 million when their annual revenue for 2019 is estimated at $12 million!  CVLB just closed recently at $0.15 per share.  These fundamentals look great, and honestly I am quite surprised we are seeing funding rounds come it at a premium to market share price.  That is a very strong message which investors are sending.  Now may be the perfect time to take a long position!
Note – Many of these facts were pulled from the following investor presentation.  Give it a look and form your own opinion.
Technical Analysis of Conversion Labs – CVLB
We've established that the fundamentals are strong for Conversion Labs.  I always like to take a look at technical analysis as well to see if this can provide investment clues.  Below, you will see a graph of the past 5-years of Conversion Labs.  As you can see, prices have been a bit range bound between $0.35 and $0.08.  We did see a huge pop all the way to $0.95 back in March of 2017.  Wouldn't another one of those be great :-).
You will notice that there is some REAL support at around the $0.12 level which is helping to prop this stock up.  Currently, the stock is trading around the 50-day moving average.  Both of these facts tell us that now would likely be a good time to buy as the stock is not currently trading at a premium to historic levels.
We would say this stock is a strong buy at the $0.12 level based on technical analysis.  We have seen those prices just over the past couple of weeks, so now may be your opportunity if you have made the decision to go long.
Conversion Labs – Stock Price History
Final Thoughts
We are excited to promote Conversion Labs as one of our first "Stocks to Watch" here on Zentrader.  CVLB has positioned itself in the exciting telemedicine sector with is growing at a considerable rate, has several new products and services in its pipeline, shows very strong financials, and is trading at historically low levels.  This stock is screaming a BUY in our opinion.
Zentrader is taking a LONG position in CVLB with limit orders around $0.12 per share.  So, you could say that this entire article is a bit biased since we are jumping in on this stock :-).  Please keep in mind we are NOT certified investment advisors, and you absolutely should do your own research before investing in this or any stock.
Disclaimers
Please note the following as you read this article:
The author of this post may have a current long position in this security.  This may influence the author's opinion of this stock.
The article is for educational purposes only, and does not constitute a recommendation to buy or sell any specific security.  Please do your own research and due diligence.
Past stock market and security performance does not have any bearing on future performance.
The author of this article may have been compensated a sum of money to produce this post.
Please only invest with money you can afford to lose.
Full disclosure : This is an advertisement and I am currently long this position. We are not a licensed broker-dealer and do not publish investment advice and remind readers that investing, especially in penny stocks, involves considerable risk. Although these stocks can offer big upside, they can also lose 100% of their value. We encourages all readers to carefully review the SEC filings of any issuers we cover and consult with an investment professional before making any investment decisions.
Leave a Reply
You must be logged in to post a comment.