By Poly
This is an excerpt from this weeks premium update from the The Financial Tap, which is dedicated to helping people learn to grow into successful investors by providing cycle research on multiple markets delivered twice weekly. Now offering monthly & quarterly subscriptions with 30 day refund. Promo code ZEN saves 10%.
Cycle Counts
| | | | | | |
| --- | --- | --- | --- | --- | --- |
| Cycle | Count | Observation | Probable Outlook | Cycle Clarity | Trend |
| Daily | Day 4 | Range 24-28 Days – 1st Daily Cycle | Bullish | Green | Failed |
| Investor | Week 8 | Range 22-26 Weeks | Bullish |    Green | Failed |
| 4Yr | Month 40 | Range 48-52 Months | Bearish | Green | Failed |
We finally have some positive action within the gold pits and the wait is over. By that I mean we have finally has seen enough positive price action to say that gold is certainly on Day 4 of a new Daily Cycle. The evidence is clear on this, firstly because the Cycle timing was so late. But also because we have our triple, technical confirmation of a Swing Low, exceeding of the 10dma, and a declining Cycle Trend-Line break to go with the Cycle timing.
Moving forward though, this is obviously where it gets tricky for gold traders.  As I have pointed out these past few weeks, gold has not been performing all that well. If I had to predict, there should be at least another two to five sessions of strength ahead, but it's at that point where I would become cautious. The question really becomes just how far can gold rally before turning lower. If we believe that the bear market, dominant trend, is still in control, as we should, then we should be concerned with a top by around the gold $1,150 level.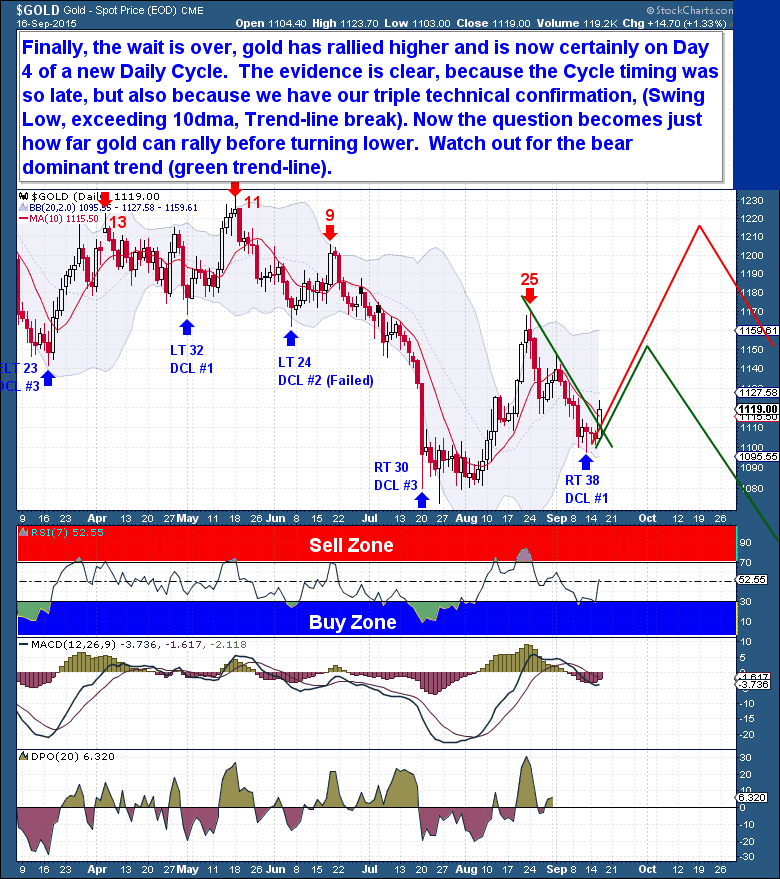 Leave a Reply
You must be logged in to post a comment.