By Poly
This is an excerpt from this weekend's premium update from the The Financial Tap, which is dedicated to helping people learn to grow into successful investors by providing cycle research on multiple markets delivered twice weekly. Now offering monthly & quarterly subscriptions with 30 day refund. Promo code ZEN saves 10%.
| | | | | | |
| --- | --- | --- | --- | --- | --- |
| Cycle | Count | Observation | Probable Outlook | Cycle Clarity | Trend |
| Daily | Day 19 | Range 36-42 Days – 1st or 6th Daily Cycle (depends on IC) | Bullish | Green | Up |
| Investor | Week 4 or 42 | Range 20-24 Weeks |   | AMBER | Up |
| 4Yr | Month 74 | Range 50-56 Months- 8th Investor Cycle. | Bearish | Green | Up |
I think it's safe to say that the current 4 month trading range presages a big move – but the trick is to determine the direction. It is either a complex final topping pattern or a significant consolidation before another massive up-leg in the great bull market. There is ample support for both scenarios, and I'm continually weighing charts, data, and facts from many sources in an effort to glean insight. Whether sentiment, breadth, or technical data, there are numerous data points that support each outlook. The challenge is to view them without filters, to keep my personal bias at bay.
I'm a Cycle analyst first, and my brand of technical work favors the scenario that suggests that the market is currently consolidating before its next move higher. This is not my personal bias, however. It's a technical observation of an outcome that has a higher probability of occurring than the alternative. It's based on recent market history, and is built on an understanding that technical indicators offer an edge but not a certainty. Cycles are backward-looking to an extent, and I extrapolate future performance from the character and performance of the Cycles that came before.
In this case, no one can deny the Cycle performance (and gains) of the past 3 years, and this three year period is the foundation of my forward Cycle expectations. At some point, and likely soon, the pattern will change and a new series of down-trending Cycles will develop. It can be credibly argued that that the current trading range is the start of such a change in trend, but it is dangerous to bet against the dominant trend.   The dominant trend is always paramount, regardless of other observations, and in this case it is up. The typical Cycle duration for a bull market advance has passed, so we need to be mindful that a top is due. But the tail-end of a bull market is often its most powerful part, and with a dominant uptrend in place, has to be seen as the most likely outcome.
The S&P recovered nicely from its recent 7 day plunge, and is again in a position to attempt to break to a new all-time high. The Cycle count is very favorable and sentiment is subdued; an upside move from here would take many by surprise and could develop into a substantial rally. If the bullish case is to hold, 2,063 should not be lost on the downside. If it is, the breach would likely signal a coming breakdown. It's also important to note that any new rally would be the 5th attempt to break through what has developed into fairly stiff resistance.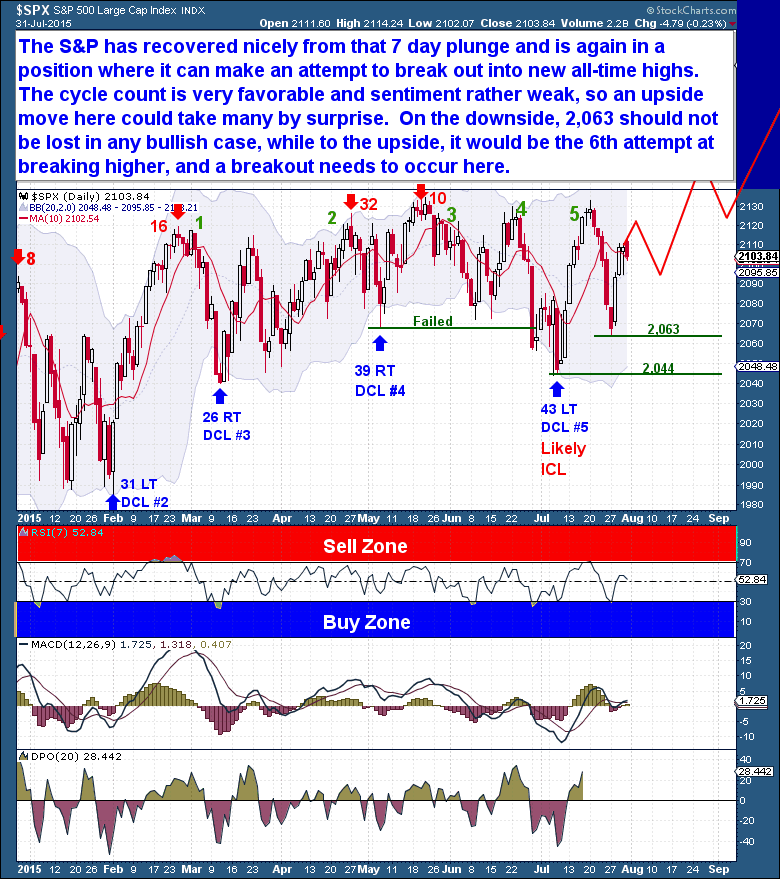 No matter how we look at the current Investor Cycle, the Jun 29th drop below the lower Bollinger Band led to an ICL. So the most probable outlook for the current Investor Cycle is to make a new high, and by a significant amount.
And if this is a market top in process, I still expect a false breakout to a new high which then fails into a Left Translated Investor Cycle. Unless and until 2,044 is breached to the downside, I continue to favor the upside scenario.
On last thing to note: a significant tightening of the Bollinger Bands has developed, suggesting that a big move is again imminent.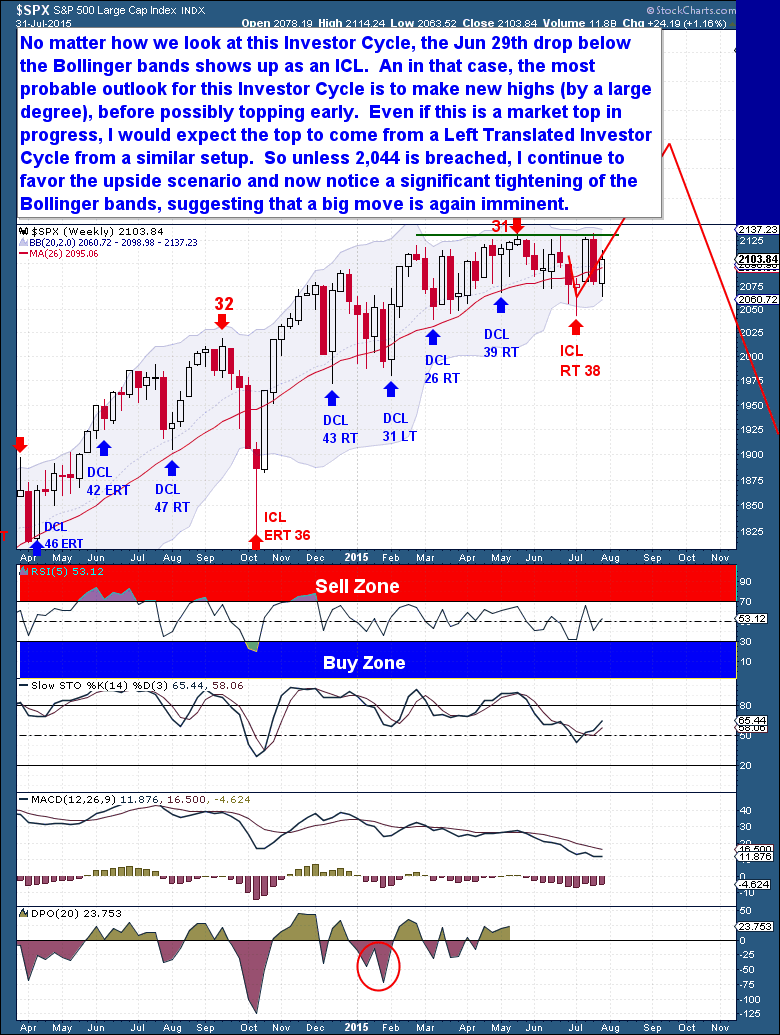 Leave a Reply
You must be logged in to post a comment.