By All About Trends – Sample our newsletter which is delivered to your inbox daily for only $10/month for the first 2 months. We've outperformed the S&P 6-1 since 2008.
Whether you are a bull or a bear it doesn't matter as in the short term both counts are valid. Both say pullback of sorts to perhaps the 20 day average, then a launch higher.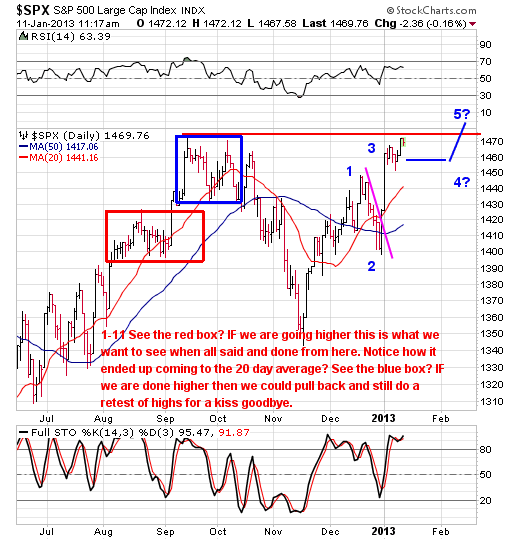 If you are a bull then the red box in the chart above applies which is a pullback and launch higher.
If you are a bear then the blue box applies which is a pullback then a retest of highs for a back to the scene of the crime kiss goodbye before falling apart. Notice the Negative RS divergence in that retest of the highs? That is what we'll want to be on the lookout for IF that is going to be the route things go.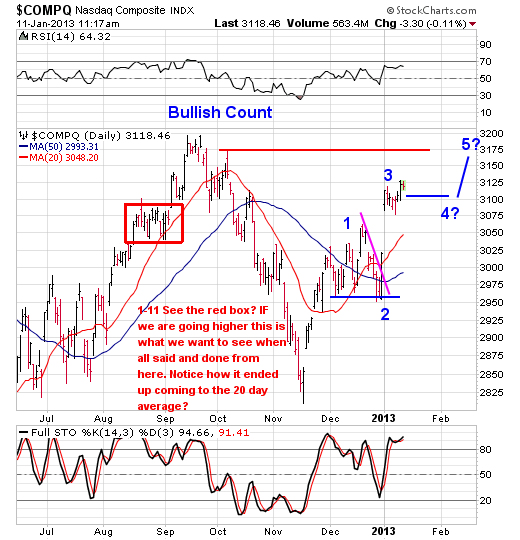 Our game plan for week of 1-7  thru 1-11 is: Let them come to us on the long side.
1-11 Talk to us at trading range support , the 20 day moving average or some sort of pullback and that's when we talk about going long. Keep in mind though there may be opportunities while this is going on that we MAY nibble on in the form of "Be There" trades on the long side.
Leave a Reply
You must be logged in to post a comment.